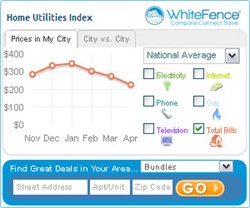 Houston, TX (PRWEB) October 14, 2013
ELECTRICITY
Extremes:
1. Highest bill: Houston, TX at $201.85
2. Lowest bill: Chicago, IL at $53.71
3. Largest Month over Month (MOM) increase: Los Angeles, CA from $40.79 to $57.50
4. Largest MOM decrease: Las Vegas, NV from $197.85 to $143.30
The city with the highest bill for September was Houston, TX at $201.85. This is typical for Houston, as the hot summer temperatures carry through September. Even though summer has ended, Houston will continue to maintain fairly warm temperatures through the month of October. The greatest increase in monthly bill was Los Angeles, CA from $40.79 in September to $57.50 in September. This large increase was due to the unusual stretch of hotter temperatures in September.
Chicago, IL had the lowest bill at $53.71 in September. Chicago took Los Angeles' title of the lowest electricity bill the country. This was mostly due to the mildly cool temperatures Chicago enjoyed for most of the month. Las Vegas, NV saw the greatest decrease, which was a decrease of $49.55 compared to its August average bill. This is primarily due to temperatures slowly decreasing as summer comes to an end in that region.
NATURAL GAS
Extremes:
1. Highest bill: New York, NY at $37.50
2. Lowest bill: Boston, MA at $9.81
3. Largest MOM increase: Denver, CO from $19.99 to $23.23
4. Largest MOM decrease: Philadelphia, PA from $13.36 to $13.02
As we saw last month, New York, NY once again had the highest natural gas bill at $37.50 in September. Indianapolis was a close runner up at $31.52. This is a normal trend from a year over year perspective and should continue for the next few months.
Boston, MA had the lowest natural gas bill at $9.81 for the month of September. This is primarily due to a significant decrease in Boston's natural gas rate. As the fall season approaches, we should see most of the northern region's natural gas rates increase. As a result, this should help the southern states reclaim the lowest natural gas bill in the country.
The city that saw the largest month over month increase was Denver, CO, from $19.99 to $23.23. This increase was not significant, as Denver has consistently maintained bills in this range throughout the summer months.
Philadelphia, PA had the largest month over month decrease from $13.36 in August to $13.02 in September. This is not significant as the decrease was minor. As fall approaches, temperatures will begin to drop in the northeast, ultimately increasing the need for natural gas.
About WhiteFence.com
WhiteFence.com is a free service that helps homeowners and renters compare, connect and save money on phone, internet, television, electricity, natural gas, and other home services. By simply entering a street address onto the secure site, people looking to save money or start new service can find the most comprehensive list of plans available for their specific address from over 300 nationally recognized partners. As a trusted home service shopping source for 20 million people annually, WhiteFence.com makes it easy to establish service directly on the site in a few simple steps. WhiteFence.com is headquartered in Houston, Texas. For more information, please visit WhiteFence.com or view the index data at WhiteFenceIndex.com.