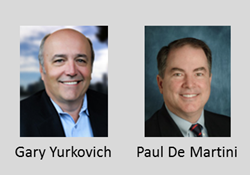 "I am thrilled to have Gary and Paul join our Board" says Kevin Collins, CEO. "Having this calibre of leadership helps refine our strategy, and speaks volumes about the success we have achieved in the market and the exciting opportunity in front of us."
(PRWEB) October 14, 2013
Gary Yurkovich is an experienced and successful executive in the technology industry. Previously, Gary was the Vice President of Sales, Marketing and Service for Creo Products where he helped grow the company from $6M to over $125M in revenue over a 3 year period prior to being purchased by Kodak for $1B. He was also the VP Sales and Corporate Development for BrightSide Technologies, which was purchased for $28M by Dolby Labs in 2007, and was also COO of Resolution Health in San Jose, CA which was recently purchased by Wellpoint. Gary started his career with Digital Equipment Corporation where he served in a variety of management and operational positions, and was one of the most highly recognized contributors in the company's history.
Gary is a BCIT graduate in Electronics and has a B.Sc. in Biochemistry and Genetics from the University of British Columbia. He is a partner at Espresso Capital Partners and is a member of the board for several technology companies.
Paul De Martini is Managing Director of Newport Consulting Group. Paul provides management consulting services to technology, energy and venture executives worldwide regarding business strategy, market development and technology and program management. He is an advisor to several global cleantech start-up and growth firms. Paul is also currently a visiting scholar at the Resnick Sustainability Institute at the California Institute of Technology.
Before starting Newport, Paul was Chief Technology Officer for Cisco's global Energy Networks Group. Previously, he was vice president of Advanced Technology at Southern California Edison leading their $2 billion smart grid strategy, policy, and research and deployment activity. Earlier, he was an executive with ICF International, Sempra Energy, Coastal Oil and PG&E Corporation in competitive energy services, power marketing and electric T&D operations.
Paul holds an MBA from the University of Southern California and a BS from the University of San Francisco. He was a Fellow of the Wharton School, University of Pennsylvania and completed the technology management program at Caltech and the project management program at UC Berkeley. Paul is a senior member of the IEEE Power Engineering Society and a California certified Electric System Operator.
About Bit Stew Systems
Founded in 2005, Bit Stew began with the vision of building a robust, scalable software platform that provides real-time analytics, dynamic event management, situational awareness and a fast and easy way to integrate into both IT and operational systems and applications. The company's flagship product, Grid Director® has gained significant traction in the utility industry as an ideal platform for advanced network operations. Bit Stew is headquartered in Vancouver, British Columbia with offices in Mountain View, California and Toronto, Ontario.