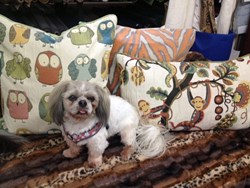 San Mateo, CA (PRWEB) October 16, 2013
Norman S. Bernie Co. prides itself on having the finest decorative fabric inventory in Northern California, servicing the greater San Francisco Bay Area since 1957. Animal patterned decorative fabrics and fake furs are an essential part of their vast and beautiful inventory, ideal for anyone wanting to enliven, provide contrast and energize their existing decor.
In addition to the in-stock animal patterned favorites such as "Crazy Ol' Bird", "Crab Walk", "Monkeying Around" and "Cluck U" from Swavelle/Mill Creek Fabrics, Norman S. Bernie Co. is announcing a brand new shipment of "Give A Hoot" set to arrive within days. Having just arrived are two stunning patterns, "Zebra: Sublime" and "Leopard: Lime," enriching existing stock of "Grevy: Zebra", "Cheetah: Fudge", "Cheetah: Nutella", "Spots: Mineral", "Tiger: Brown" and "Siamese: Nubex".
In-stock imported fake furs now available at Norman Bernie Co. include "Grooved Beaver Fur: Brown", "Cuddle Leopard Fur", "Chinchilla", "Alaskan Fox", "Lynx", "Porcupine" and many more that Norman Bernie Co. can special order.
Whether customers are looking for animal patterned decorative fabrics as accents, or to use as upholstery fabrics and even as drapery fabrics; they are sure to brighten up any decor. So why wait? Make a date to visit Norman S. Bernie Co., the go-to destination for the most beautiful decorative fabrics at discounted prices, and the friendliest, most expert customer service in the industry.