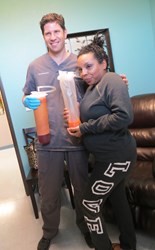 I just want a waist and a little more butt.
Las Vegas, NV (PRWEB) October 14, 2013
Like many women, Lady G spends hours in front of the mirror critiquing her body and dreaming of a trimmer, more shapely figure. She recently had liposuction of her abdomen and waist then fat transfer to the butt, also known as "Brazilian Butt Lift."
"I've been talking about this for a long time, I'm glad I finally found MyShape Lipo to help me out," says Lady G. "I just want a waist and a little more butt. I haven't been able to shed my pregnancy fat from my son."
As a radio DJ, Lady G tends to spend a lot of her time sitting and the early hours she works has made it a challenge to find the time to exercise regularly. Despite her efforts to improve her diet and exercise routine, she has been unable to accomplish the body shape that she desires.
"Lady G has a petit frame and any excess fat is much more obvious on her body," says Trevor Schmidt PA-C liposuction specialist at MyShape Lipo. "The fullness in her midsection has given her a boxy shape to her torso. We hope to give her back those sexy curves she wants."
Lady G had her procedure at MyShape Lipo on Friday, October 11th. She had liposuction of the abdomen and waist, then transferred the fat to her buttocks for a Brazilian Butt Lift. The procedure went very well and she is taking her time to recover before she goes back on the radio just days following the procedure.
"I have been so excited about this, I've always wanted a bigger butt," Lady G claims. "MyShape Lipo is awesome, the staff treated me like family. They are very professional and I would recommend them to all who want to improve their shape."
MyShape Lipo is a specialty liposuction clinic located in Las Vegas, NV. Trevor Schmidt PA-C, their liposuction specialist has performed over 15,000 liposuction procedures. Patients fly in from around the globe for their specialty service and affordable prices. For a complimentary consultation call 702-818-5476 or visit them online at http://www.MyShapeLipo.com.