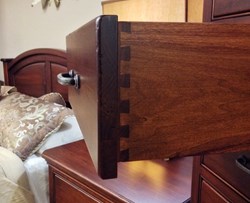 When looking at new product, we search out great deals because we have the customer on our mind and we know that's what they want.
Morgantown, WV (PRWEB) October 12, 2013
From their humble beginnings, Chuck's Furniture has been well known in north Central West Virginia for great products and even better customer service. Over the past few years, the business model has been evolving with the new realities of the changing market and marketplace. With an eye towards quality and value, they have moved in in their own direction. As their local competitors have chosen to focus on low cost imports, Chuck's Furniture has chosen to focus on great buys and American made products.
James Prutilpac believes that, "Customers may initially talk about price when it comes to furniture shopping but as you speak with them you begin to see that value is more important to them. Maybe they bought a cheap sofa that lasted a year and had to be replaced. People are beginning to see that these cheap knock often cost them more in headaches and replacements."
Chuck's has the largest selection of American made, solid wood furniture in the area. At Chuck's, they haven't made this become an expensive shop only. The American crafted furniture ranges from $399 sofas to $12,000 Amish bedroom suites. Both are made by local craftsman and the $399 sofa that costs less than it's imported counterpart has reversible cushions and solid wood framing. Those are two tremendous, often overlooked values that you won't find from other stores, especially the bigger chains.
The best part for consumers is this focus on higher quality doesn't mean higher prices. Comparing prices around north central West Virginia makes that obvious. Chuck's has the lowest starting prices on recliners, sofas, and bedroom suits to name commonly sought after categories.
As always, Chuck's regularly serves these areas: Waynesburg, PA; Uniontown, PA; Morgantown, WV; Fairmont, WV; Clarksburg, WV; Bridgeport, WV; Beckley; WV; Kingwood, WV; Terra Alta, WV; Elkins, WV; Buckhannon, WV; and many more!