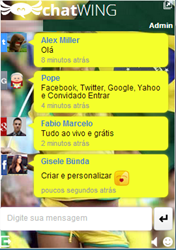 New York, NY (PRWEB) October 12, 2013
Chatwing.com and its researchers have made an appearance in financial communities by highlighting the factors that can make any finance blog grow. These factors range from the proper utilization of trends, up to the future effects of social media. The researchers also added information on how to attract more subscribers.

Trends in finance. According to Chatwing chatroom researchers, financial trends are 'hot items' right now. Contrary to general belief, trends in finance are always growing and there are new things being offered every now and then. By tapping onto these trends, financial bloggers will gain real-time exposure.
Finding the right audience. For Chatwing researcher Shelly Miller, targeting the right users and subscribers is like growing a garden—the initiative of the blogger or campaigner must be persistent. There are many tools that can help financial bloggers get long-term subscribers. The Chatwing chat software alone is one of these tools that focus highly on communication and social media.
Social media leverage. The era of social media has helped thousands of bloggers for the last ten years, based on professional studies. Facebook and Twitter referrals became rampant, allowing bloggers to flourish. Chatwing.com chat app believes that social media is the key to the long-term success of any financial blog.
Chatwing Development Team is planning to expand to different niches and communities before the year ends. Aside from this, the developers will add more useful features to the premier chat box in order to help bloggers regarding online exposure.
About Chatwing.com
Chatwing.com specializes in the new field of website chat software. Over years, the Chatwing team has introduced live chat widget for hundreds and thousands of blogs. The Chatwing application bridges people from many parts of the world, creating global synergy through the Internet. The shout box can be installed in just seconds, and it can be used for varying purposes such as leisure and Internet marketing. It also allows a user to customize the size, color, and name of the widget.