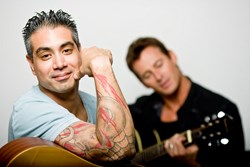 Fort Lauderdale, FL (PRWEB) October 17, 2013
With the continued research from the National Association for Music Education, VH1, PBS, and much more showcasing the overwhelming benefits of taking music lessons, parents across the nation are scrambling to enroll their children. As the trend in music education continues, Dyce Kimura of Fort Lauderdale, FL, is proud to announce his continued offering of online guitar lessons across the nation.
"It can be difficult for parents and students to find a quality, reputable teacher in their area," says Kimura. "If you live in a small town, then the musical resources might not be there to give you good guitar lessons. But on the other hand, teachers in a larger city often have waiting lists of students trying to get into their studio."
Through his innovative Skype guitar lessons, Dyce Kimura has been able to help students across the globe respond to this issue. Regardless of their geological location or their schedule commitments, having a music lesson online gives students the opportunity to learn at their convenience from a trusted teacher. In fact, Kimura is in a unique position, as he both teaches and continues performing and recording in the studio as a professional musician. "It's a tough balance," says Kimura, "but it gives me a unique perspective to inspire students to perfect their craft as I teach."
It was recently announced that Dyce Kimura is a top 10 finalist in the 2013 Truefire Next Top Guitar Instructor Competition. Through December, Kimura will be active in the competition, which is now open to public voting. Kimura's performance in this global competition distinguishes him as an instructor who is not only dedicated and passionate about his craft, but is also excellent in what he does. "I'm thrilled to be recognized with such a talented group of professionals," says Kimura.
Indeed, Kimura is known for trying to make music accessible to everyone through his Skype guitar lessons. In fact, those who register for a lesson and mention this article will receive a 15 percent discount off their first lesson. "With the technology available to us today, there's no reason that you can't learn music," says Kimura. "The world is such an inter-connected place, and I'm happy to bring music into that equation through Skype guitar lessons. Learning from the comfort from your home couldn't be easier."
Dyce Kimura is a professional musician from Fort Lauderdale, Florida, who is known for his online music lesson offerings.
Contact:
786-457-3687
http://www.skypeguitarlessonsonline.com/contact-dyce/.