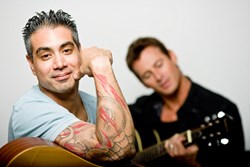 Fort Lauderdale, FL (PRWEB) October 24, 2013
As the world around us continues to evolve digitally, the world of music is also taking advantage of technological offerings. Dyce Kimura, a respected professional musician in Fort Lauderdale, Florida, proudly continues to bolster his innovative Skype guitar lessons. "With the technology available to us today, there's no reason for people not to have access to music and have the opportunity to learn," says Kimura.
Indeed, Dyce Kimura's online guitar lessons are available to anyone throughout the world as long as they have an internet connection and ability to Skype. Part of what makes Kimura one of the most sought teachers is the fact that he still performs as a professional musician. While many Skype guitar teachers focus on music education full-time, Kimura is performing, gigging, and recording in the studio. This gives Kimura a unique perspective as he works with each student because he creates custom lessons that allow students to not only learn music, but also understand how they can use it in life.
"He's really inspiring," says one student. "I enjoy the practical approach that Dyce brings. Whether it's tips on how to practice or on how to perform, everything he teaches has a purpose. I've recommended him to my friends."
This isn't the first time that Kimura has received such high praise from his students. In fact, Kimura is currently a top 10 finalist in the 2013 Truefire Next Top Guitar Instruction Competition, which is open for voting through December. Though Kimura receives consistent praise for his work as an instructor, he insists that his goal is simple. "I just want to make music accessible for anyone," says Kimura.
To make this goal a reality, Kimura is offering 20 percent off for first time Skype guitar lessons by simply mentioning this article. The cut off is October 20th, 2013 at midnight. With continued research showcasing the benefits of music education, Kimura hopes that parents will encourage their children to learn more about the arts. But Kimura isn't just teaching children. "Anyone of any age can learn music," says Kimura. "It has a profound effect on creativity, time management, and your ability to set a goal and achieve it."
More and more research continues to prove the benefits of music lessons, especially at a young age, and Kimura hopes that parents will take advantage of his Skype guitar lessons.
Dyce Kimura is a professional musician from Fort Lauderdale, Florida who is passionate about making the lives of everyone around him just a little more musical.
Contact:
786-457-3687
http://www.skypeguitarlessonsonline.com/contact-dyce/