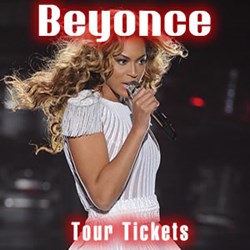 Beyonce fans now get several chances to see a show. With the discounts from BeyonceConcertDates.com and the new tour date schedule maybe they can even see two.
Brooklyn, NY (PRWEB) October 14, 2013
Brooklyn Beyonce concerts sold out both December tour dates. At first glance a music fan might simply think this puts Beyonce in the exact same league as other top acts with two shows at Barclays Center like the Pearl Jam Brooklyn tour dates or the Pink Brooklyn concert dates, Jay Z or Kanye West. Beyonce. However, she sets herself dramatically above the rest when the larger picture reveals that these Beyonce Brooklyn concerts do not represent the ability to sell out only two performances in a year but rather the secondary leg of a tour resulting in a total of five sold out Brooklyn tour dates in 2013.
Beyonce And Luke James tickets for tour dates in July and August already ranked as one of the top selling concerts this year. On the heels of that success Beyonce heads out on tour again in December on her own in some of the same the venues where she will have payed a few months before. Two of the strongest examples jump out to the common observer as Beyonce in Washington DC and Brooklyn. In Brooklyn Beyonce played three times this summer, making the December concert a 5th show. In DC Beyonce played twice in the summer before her return in December. Other cities with a double stop include Beyonce Houston, Chicago, Dallas, Los Angeles, San Jose and Boston.
Note the exact tour dates of the new December Beyonce concerts:
November 30, 2013 - Vancouver
December 2, 2013 - San Jose
December 3, 2013 - Los Angeles
December 6, 2013 - Las Vegas
December 7, 2013 - Phoenix
December 9, 2013 - Dallas
December 10, 2013 - Houston
December 12, 2013 - Louisville
December 13, 2013 - Chicago
December 14, 2013 - St. Louis
December 16, 2013 - Toronto
December 18, 2013 - Washington DC
December 19, 2013 - Brooklyn
December 20, 2013 - Boston
December 22, 2013 - Brooklyn
In addition to the Brooklyn concerts at Barclay's Center, New York City music fans can find more shows just across the bridge in Manhattan. Starting with two Elton John MSG concerts Tickets-Cheapest.com sells tickets for all events at Madison Square Garden including the Rod Stewart New York concert, the three Eagles MSG concerts, as well as the Knicks and Rangers. Theater lovers can buy tickets for Broadway shows in New York City either at Tickets-Cheapest.com or their sister site Ticket-Broadway.com including the popular Radio City Christmas Spectacular. NFL fans may purchase New York Jest or New York Giants tickets too.
The Beyonce Concert Dates site offers tickets for all Beyonce concerts including sold out shows, premium seats, and floor tickets for every tour date at prices cheaper than other resale sites. In a recent price comparison BeyonceConcertDates.com and Tickets-Cheapest.com proved they remained the cheap tickets kings by once again winning in an exact seat price competition including offering prices better than Stubhub. Beyonce fans now get several chances to see a show. With the discounts from BeyonceConcertDates.com and the new tour date schedule, maybe they can even see two.
About Financial Firebird, Beyonce Concert Dates and Tickets Cheapest
The site to buy Cheap Tickets online and its sister sites, including BeyonceConcertDates.com and a site to purchase a New York Broadway ticket or tickets for Broadway tours, all geared for the consumers looking for low prices, are affiliated with the Financial Firebird Corporation Travel Group, and stand among the top sites sought by travelers and people who enjoy concerts, pro sports and theater performances. Financial Firebird Corporation, established in 2000 and a proud BBB member, provides unbiased consumer information particularly involving personal unsecured debt or mortgages, software and marketing services. These sites for consumers to buy tickets online operate in the resale market and maintain no relationship with the venues or performers. The resale ticket market allows consumers access to popular events once the box office has sold out or to buy premium seats when the venue no longer offers any inventory. Within the group of these secondary market ticket services the Financial Firebird owned ticket sites offer lower prices than competitors. Find the site at Tickets-Cheapest.com.