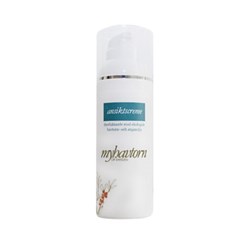 San Francisco, CA (PRWEB) October 29, 2013
Ayla (aylabeauty.com), an online natural skincare boutique, today announced the addition of Swedish organic skincare brand MyHavtorn to its portfolio of natural skincare brands. In early November, Ayla will be the first authorized online retailer in the US to carry MyHavtorn. MyHavtorn, a family-owned company, creates its organic skincare products using sustainably hand-harvested sea buckthorn berries that have been grown on the Johansson family farm on the coast of Sweden.
"We're extremely excited to be the first US retailer to carry MyHavtorn's high-end organic skincare line," said Dara Kennedy, founder of Ayla. "Sea buckthorn is rich in essential fatty acids as well as Vitamins A and C. It has myriad benefits for the skin, particularly for sensitive, dehydrated, and aging complexions. MyHavtorn's line is perfect for our customers who struggle with sensitive and reactive skin but want to keep the signs of aging at bay. Its products are incredibly nourishing and produced in small batches in order to maintain a good shelf life without using preservatives that can irritate skin. We believe these are the highest quality skincare products on the market that feature sea buckthorn, which is now being recognized as a skincare 'superfood.'"
Sea buckthorn is a berry shrub that is packed with a high concentration of fatty acids, including Omega-3, Omega-6, and Omega-7, and is rich in vitamins, minerals, and antioxidants. Sea buckthorn oil helps boost radiance and collagen production, protect skin and repair skin from sun damage, and helps skin to retain moisture.
Aylabeauty.com will first carry MyHavtorn's Organic Facial Oil and Organic Facial Cream, with additional products set to launch in early 2014.
MyHavtorn's Organic Facial Oil (0.33 oz, $50) is created for all skin types, but particularly for those with sensitive skin. The oil features a high concentration of sea buckthorn oil from the coast of Sweden. It is unlike other sea buckthorn oils on the market because it is blended with the finest argan and avocado oils for more balanced hydration benefits, making it a great nighttime moisturizer or a vitamin boost underneath any facial cream or lotion.
The Organic Face Cream (1.7 oz, $65) is a lightweight formula, featuring nourishing, anti-aging, and soothing ingredients that leaves skin balanced and radiant. The cream boasts a high concentration of sea buckthorn oil, avocado oil, safflower, argan oil, bergamot oil, and linden blossom. The blend of these high quality ingredients work together to soothe, balance, and repair skin.
MyHavtorn's line will be available in November 2013. For more information, please visit aylabeauty.com.
About Ayla
Ayla is an online beauty retailer that offers consumers personal guidance for skincare that works. To ensure its customers get healthy, great-looking skin from the inside out, Ayla combines the best natural, organic, and "nasty-ingredient-free" products with expert recommendations and holistic skincare advice. Since 2011, aylabeauty.com has built a loyal following for its highly personalized and convenient experience. Ayla is a privately held company with headquarters in San Francisco, CA. Visit Ayla on the web and like us on Facebook.