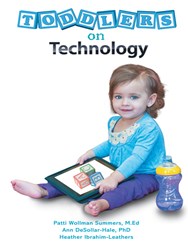 Parents must ensure that their children retain their humanity by balancing their digital excursions with time spent engaging the real world.
New York, NY (PRWEB) October 15, 2013
The next generation of toddlers are racing down the information highway, leaving parents and educators scrambling to prepare for them. Authors Patti Wollman Summers, M.Ed; Ann DeSollar-Hale, PhD; and Heather Ibrahim-Leathers, CFA, put parents back behind the wheel in their groundbreaking guide, "Toddlers ON Technology."
The easy-to-read guide incorporates three decades of experience in early childhood education, clinical neuropsychology and practical parenting to offer essential tips for raising digital toddlers, coined "Digitods" by the authors, such as:

Secrets to managing touchscreens in a toddler's life
Choosing an application in tandem with your child's learning style
Creating balance between screen time and real-life activities
The latest scientific research regarding the effects of screen time on young children's brains and whether the Apps can be considered educational
Industry experts' and leading researchers' recommendations on screen time
Practical parenting tips and tools to create balance in a new generation of Digitod's lives
"We don't want to be the last generation who can laugh at a movie, play a team sport, cry at a play or marvel at a work of art," Summers says. "Parents must ensure that their children retain their humanity by balancing their digital excursions with time spent engaging the real world."
"Toddlers ON Technology" is an easy to follow guidebook from parents for parents. The book analyzes emerging scientific research on Digitods, while helping parents grab the reins of digital technology and exert control, so they can balance the lessons their children learn in the digital world with essential lessons in real life, concerning physical, social and emotional growth.
"With our knowledge in early childhood education, brain development and practical parenting tips, we feel capable of taking on the challenging task of educating parents and instilling them with the confidence they need," Summers says.
For more information, visit http://www.digitod.com.
About the authors
Patti Wollman Summers obtained two masters degrees, the first in English from SUNY Buffalo and the second in early childhood education from Bank Street College. She has been a teacher, director and consultant for over three decades. She holds additional experience as a teacher of parent-child classes featuring an integration of iPad Apps and is a published author.
Dr. Ann Desollar-Hale is a clinical neuropsychologist, mother and previous businesswoman in technology. She received a bachelor's in business administration from University of Illinois, a masters in clinical-developmental psychology from Columbia University and masters and doctoral degrees in clinical health psychology-neuropsychology from Einstein Medical School. These experiences have given her the ability to decipher complicated neuroscience data and make it easily understandable for parents concerned about their toddler's interactive screen time.
Heather Ibrahim-Leathers is extensively published and her award-winning research has been translated into several different languages. She earned her bachelor's in economics from Wharton School at the University of Pennsylvania and is¬¬¬¬¬¬ a Chartered Financial Analyst. She holds an impressive resume of analyzing financial, technology, gaming, and retail companies for $10 billion worth of fixed income investments and is the president and founder of the Global Fund for Widows
"Toddlers ON Technology"
By Patti Wollman Summers, M.Ed;
Ann Desollar-Hale, PhD; and Heather Ibrahim-Leathers
ISBN: 978-1-4817-3050-1
Available in hardcover, softcover and e-book formats
Available on Amazon and AuthorHouse
Connect with the authors on: GoodReads, Twitter and Facebook
For review copies or interview requests, contact:
Lauren Cascio
317.602.7137
lcascio(at)bohlsengroup(dot)com