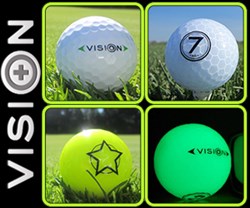 Toronto, Ontario (PRWEB) October 14, 2013
Vision Golf are most recognized for the advanced visual performance of their innovative UV StayBright technology which is best seen in the extra bright UV Yellow golf ball design.
With the launch of this crowd funding campaign, Vision Golf has a clear goal of bringing their brand and designs into the spotlight within the North American golf market. This comes after many years of detailed player trials and test marketing research in both Canada and the United States. The campaign is now live using the Indiegogo Crowd Funding platform, which can be viewed at: http://www.indiegogo.com/projects/vision-golf-balls.
Working in conjunction with brand development agency, Eat Sleep Golf, through this 30 day campaign, Vision Golf (Australia) is looking to put their brand and ideas on the map and in the bags of regular players. In doing so, they will be looking to further evaluate the market with a strong desire to achieve enough player support to justify a permanent presence in North American.
"This is probably the most innovative golf brand that I've come across," said Scott Stevens, Director of Innovations at Eat Sleep Golf. "They spend significant amount of time and energy in order to create amazing products unlike anything I've ever seen before. This is most evident with their UV absorbing golf ball, which absorbs the suns UV rays to make it brighter and more visible; it even glows in the dark. And what's most impressive is the fact that this isn't just a novelty product, as it is fully conforming to the USGA regulations. I'm really excited to see the Vision brand take flight here in North America and to be a part of the launch."
Along with a variety of product offerings through the crowd funding campaign, the primary focus will be on the Vision 'Test Pilot Team' program. This unique program provides regular golfers with a wide range of 2013 Vision product plus some prototype designs and gives them the opportunity to prodive direct feedback and their suggestions for the future development of those products to design team leader Wayne Bosley. Test Pilot Team members will also gain access to future pre-production designs and prototypes in a continual effort to improve the Vision product line. This concept is based on the Vision design team's product validation philosophy where players are initially asked to think about the quest "Do you as a player need a Tour validated design or would you prefer product models that are designed to genuinely help you to play a better game of golf?"
Be sure to check out the Test Pilot Team opportunities and other offerings on the crowd funding campaign website at: http://www.indiegogo.com/projects/vision-golf-balls.
About Eat Sleep Golf
Eat Sleep Golf is a media and brand development agency focused on the golf industry. Working with brands focused on innovation and creativity, Eat Sleep Golf focuses their efforts on creating custom solutions that further enhance the vision of their clients in an effort of taking those brand to new heights.
"Drive it like you own it." http://www.EatSleepGolf.ca
About Vision-Australia
Vision-Australia is a 100% owned family business that has no fear of the much larger OEM brands. Vision brings to the golf industry many practical innovations in golf design from the productive long-term working relationship between the well known Australian father and son pairing of Bill and Wayne Bosley and their 80+ years of combined International golf industry work experience plus having both played at an International representative amateur level.
They have worked together with many of the industry's iconic brands and elite players during the years, PGF Australia / Ram Golf / Penfold Golf / Etonic Golf / Acushnet Company (Titleist / Pinnacle and Footjoy) / Dunlop Slazengers and the majority of all the current Australian and New Zealand Professional Tour players on both the men's and woman's circuits around the world.
"See.Feel.Believe! with VISION™