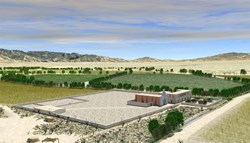 Tucson, AZ (PRWEB) October 14, 2013
Ever wondered about the people who lived in Tucson and its surrounding areas thousands of years before today? Archaeologists Bill Doelle and Doug Gann, of Archaeology Southwest, will show you during their three-part lecture series, presented the third Thursday of every month, as part of Maker House's Salon Series.
Each lecture will begin at 7 p.m. at Maker House, located at 283 N Stone Ave, in downtown Tucson. The lectures are free and open to the public, but seating is limited. To reserve your spot, please visit http://tucsonunderground-eac2.eventbrite.com/.
Free parking in the Franklin lot, right across the street from Maker House!
10/17/13
Tucson Underground
Explore what lies beneath downtown Tucson's streets with distinguished archaeologist Bill Doelle.
11/21/13
Virtual Tucson
See Tucson's past rebuilt before your eyes with digital media expert Doug Gann.
12/19/13
Virtual Southwest
Enter Archaeology Southwest's digital time machine to experience the places of the Southwest's past.
About Bill Doelle, President and CEO of Archaeology Southwest
Bill came to Tucson almost 40 years ago as a new graduate student. Today, he is the founder and president of two Tucson-based organizations dedicated to respectfully exploring the Southwest's past and sharing that story with everyone. His commitment to Tucson shows through the meticulous care and scholarship he and his teams bring to the study of the community's deep heritage, and through his fierce advocacy for preserving important places as a legacy for the community's future. No one knows "Tucson Underground" better than Bill does.
About Doug Gann, Preservation Archaeologist and Digital Media Specialist at Archaeology Southwest Doug grew up on Tucson's northwest side, where he played in the adobe ruins of historic homesteads and wondered about the ancient artifacts he found on walks home from school. For the past 25 years, Doug has pursued and entwined his two passions, archaeology and computer technology. Most recently, Doug has developed CVR (Chronological Virtual Reality), a digital time machine that shares archaeological perspectives on the past in extraordinary ways. He will show you a Tucson—and a Southwest—you have never seen before.