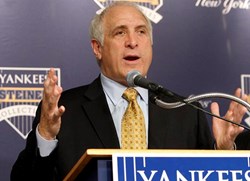 Brandon is an expert in marketing, merchandising, memorabilia, and branding. His experience and expertise will be tremendous for our company as we grow in building Oxford City into a global brand
Deerfield Beach, FL (PRWEB) October 14, 2013
Thomas Anthony Guerriero, CEO of Oxford City Football Club (OTCQB:OXFC), announced today that Brandon Steiner, author and Chairman of Steiner Sports, has been named to their Advisory Board. Steiner Sports will now be the exclusive partner of Oxford City, their portfolio of professional sports teams, and all their affiliates.
CEO Thomas Anthony Guerriero said, "Brandon is an expert in marketing, merchandising, memorabilia, and branding. His experience and expertise will be tremendous for our company as we grow in building Oxford City into a global brand. With Brandon Steiner and Steiner Sports we will strategically position ourselves to capitalize on the expansion of our portfolio."
About Brandon Steiner & Steiner Sports
Brandon Steiner is one of the leading producer, innovators, and experts in sports marketing, merchandise, and memorabilia in the world. Brandon Steiner & Steiner Sports point of difference in the sports marketplace is that they are not an athlete representation firm and hold no obligations to marketing any particular athlete. Instead they represent companies.
Brandon Steiner spent over 25 years building relationships with more than 2,000 athletes, national relationships with the MLB, NBA, and partnerships with the best teams in sports. His list of clients are a who's who in sports and sponsorships. His client list is a mile long with such names as the New York Yankees, New York Rangers, New York Knicks, Brooklyn Nets, New York Giants, Notre Dame, Trenton Thunder, Major League Baseball, American Express, Citigroup, Macys, Mastercard, Barclays, Delta, Vitamin Water, NBA, Cantor Fitzgerald, Poland Spring, New York Post, AT&T, Dunkin Donuts, Sterling Bank, Benjamin Moore, Daily News, Wounded Warrior Project, Rawlings, Mohegan Sun, ESPN, New York Times, Nestle Waters, Party City, Golf Digest, Live Nation, Chase Bank, Brookstone, NFL, Oppenheimer, Amazon, Bank of America, YES Network, CBRE, just to name a few.
About Oxford City
Thomas Anthony Guerriero is the CEO & President of both Oxford City Football Club, Inc. (http://www.oxfordcityfc.com) and Oxford City Basketball Club (http://www.oxfordcitybasketball.com).
Oxford City Football Club (OTCQB:OXFC) is a publicly traded company, focused on the continued growth and expansion of our two core portfolio divisions. Our two core portfolio divisions are our Professional Sports Portfolio Division & Academic Institution Portfolio Division. The two professional football clubs are Oxford City FC, which plays in the Conference North Division and Oxford City Nomads, which plays in the Hellenic League Premier Division of the English Football Association. In addition Oxford City Futsal play at the highest level in England and were the 2012 Champions of England. We anticipate expanding this portfolio to acquire other professional sports teams in the near future in the UK, USA, and Peru.
Our Academic Institution Portfolio is comprised currently of ownership in two academic institutions, one in Oxford, England and one in South Florida, USA. The two academic institutions are Oxford City Sports College and Oxford City University (http://www.oxfordcityuniversity.org), which is based in South Florida currently with a Bachelors, Masters, and Doctorate Degree Program in Economics and Financial Markets. We anticipate an expansion in our degree programs in Sports Management and Real Estate & Property Management.
Safe Harbor for Forward-Looking Statements
This press release contains forward-looking statements within the meaning of Section 27A of the Securities Act of 1933, as amended, and section 21B of the Securities and Exchange Act of 1934, as amended. Readers are cautioned not place undue reliance on these forward-looking statements, which are only predictions and only speak as of the date hereof. Forward-looking statements usually contain the words "estimate," "anticipate," "believe," "plan," "expect," or similar expressions and are subject to numerous known and unknown risks and uncertainties. These risks and uncertainties could cause the Company's actual results to differ materially those indicated in the forward-looking statements. Investors are encouraged to carefully review regulatory filings prior to investment consideration. Past performance is no guarantee of future success or that there cannot be losses or business interruption. The Company is in a rapid growth sector that may or may not continue to grow in the future and therefore poses risks that may be different than other investments. Management regularly provides news and additional information believed to be true and accurate at the time of dissemination but has no requirement to modify, comment or change in the future should circumstance change or information prove to be inaccurate for any reason. Additionally, the Company makes every effort to comply with all applicable laws.