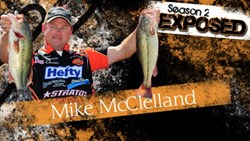 Exposed really does a tremendous job of educating and teaching.
Yankton, South Dakota (PRWEB) October 14, 2013
The new educational video collection comes in an eight-disk collection, offering over 16 hours of fishing entertainment. The DVD features 24 pro anglers, each with their own Exposed episode, as they study and practice on competition waters across North America during the days leading up to championship tournaments. Several of the professional anglers included in this collection will be promoting the DVD release of Season 2 in the coming months as a way to educate aspiring anglers and to promote the industry. Those promotional opportunities include marketing to their sponsors, selling on their own online properties, selling to their own affiliated tackle stores, and guest appearances at select locations like Bass Pro Shops.
One of those anglers promoting Exposed on his own website is Bassmaster Elite Series pro angler and fan favorite Mike McClelland. The champion angler remains one of only three pros who have been Exposed during all three seasons filmed.
ProPatterns caught up with the Bella Vista, Arkansas native to discuss his experiences on the water and his relationship with ProPatterns and Exposed.
Looking back at the episodes he's filmed, McClelland comments that "the Exposed experience has been eye opening...knowing that I'm being filmed, I have a chance to talk through the day and really evaluate what I'm doing."
According to McClelland, filming for Exposed not only has opened his own eyes to many of his own techniques, but also has made him aware of how the educational series has impacted viewers. McClelland noted that even when he didn't think he was having the best days on the water, many viewers commented that they had learned much from watching him work and study the water.
The six-time champion discussed the challenges each tournament poses, recounting the 2013 Elite Series Alabama River Charge presented by Star brite. During the practice days and before an upcoming episode of Exposed, McClelland had established a solid pattern, but then attempted to establish a secondary pattern using a different bait. Whereas McClelland didn't place as well as he hoped at the tournament, the takeaway from the experience was invaluable.
The best advice he offers to the weekend angler is to avoid fishing over the top of or running away from potential hot spots. He recommends taking the time to break down areas and look for patterns. McClelland will have much more to offer on the Season 2 collection of Exposed and the upcoming online release of Season 3 of Exposed.
McClelland tells ProPatterns, "For the dollars spent on the DVD collection or the pay-per-view experience, viewers have the opportunity to learn from all the pros...even if recreational anglers don't travel to all the waters highlighted in the series, they still take away from the patterns and tips the pros provide and can bring that expertise back to their home waters."
Having been only one of three pros to appear in all three seasons of Exposed, McClelland wanted to take a moment to "applaud the entire ProPatterns team from Timmy Horton and the production crew to the editors and all the talent behind the scenes. Exposed really does a tremendous job of educating and teaching."
Now until the end of the October, ProPatterns.com fans who sign up for an Elite membership have the opportunity to see McClelland and 23 other pro anglers Exposed in the eight-disk DVD Season 2 collection at a 20% discount.
About ProPatterns, Inc. and Exposed
ProPatterns, Inc. is a leader of angling education offering a variety of fishing tips and membership services online. Information is gathered from various sources and shared with members in a variety of ways. The Exposed video series, for example, gains all of its integrity from an alignment with the biggest names in the bass fishing industry including professionals who fish with BASS, FLW, and PAA. Cooperation from the anglers and their willingness to share is the catalyst for the growth of this series.
The company is based in Yankton, South Dakota, home of CEO and President Chad Ekroth. Ekroth's background includes a computer science degree and business experience involving several successful startups. When not tending to business, Ekroth spends his time tournament fishing and engaging in other industry relations including a long time commitment to B.A.S.S. Nation as a 25 year member and competitor.
In addition to Exposed the company provides online fishing journals, payday opportunities, sponsorship opportunities, and a variety of other services including the new enhanced Fantasy Fishing competition which provides all members a chance to win prizes.
Visit http://www.ProPatterns.com today to receive all of the latest information about the Exposed videos series and to learn more about all of the member services available.