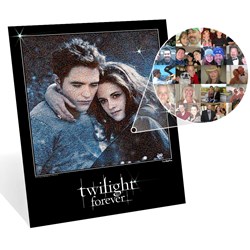 Los Angeles, CA (PRWEB) October 18, 2013
Striker Entertainment and Fan Mosaics have big news for Twilight fans: They're partnering to create the official Twilight Fan Mosaic to celebrate the fifth anniversary of the release of the blockbuster movie Twilight, as well as the release of the Twilight Forever box set. Fans will be able to upload photos for inclusion in this unique piece of Twilight history.
"To build the Twilight Fan Mosaic, we'll take fan-submitted photos—either of themselves or another Twilight fan—and use them as building blocks to re-create an iconic image of Bella and Edward," says Rob Hixenbaugh, Fan Mosaics' director of fan & brand development. "When fans look at the finished mosaic, they'll see that they have a special place in the fantastic world of Twilight."
Fans can upload their photos for free at http://www.FanMosaics.com/TwilightForever until November 22. They can also purchase a high-quality 24 in. x 30 in. commemorative print of the mosaic on the Fan Mosaics website so they can have their own version of "Twilight Forever." Scheduled for printing and shipping in early December, the Twilight Fan Mosaic makes the perfect holiday gift for any Twilight fan.
About Fan Mosaics
Northfield, Ohio-based Fan Mosaics, LLC, is the bridge that connects fans and stars. The company's officially licensed celebrity photo mosaics—composed entirely of fan-submitted images—are a unique and lasting outlet for fans' enthusiasm and loyalty. Entertainers in all industries choose Fan Mosaics to thank fans for their dedication, and charities partner with Fan Mosaics to raise funds for their worthwhile causes. Visit http://www.fanmosaics.com to view completed and current projects and to learn more about the Fan Mosaics creation process.