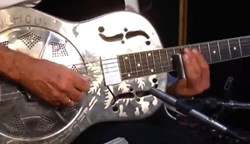 (PRWEB) October 13, 2013
This lesson is from Jimmy's forthcoming DVD "Ultimate Acoustic Blues" that will be available October 16th. In this blues guitar lesson, now available on YouTube.com, Jimmy teaches about building up your vocabulary of acoustic blues licks. Using his resonator acoustic guitar, Dillon covers a variety of styles and techniques, in both rhythm and lead guitar.
"I really want to help you build up a vocabulary of licks", Dillon says. He wants to help you incorporate using shuffles, finger style including the "dead thumb" technique, 7th chords, and multiple variations of "walk downs" (turn a round) in the blues guitar style as well as blues cross overs like folk and jazz. He demonstrates how using the "hammer-on technique" in both rhythm and lead guitar styles is very popular and will add new dimension to your playing, "it can really motorize the thing," says Jimmy.
Jimmy also announced that he is going to make all of the backing tracks he made for this DVD available for you. "Were gonna make that happen," says Dillon. He goes on to say that they will be available through GuitarControl.com.
Hailing from the state of Michigan Jimmy Dillon is an award winning songwriter, recording and performing artist, and the director of Blue Star music camp. He has shared the stage with the likes of Carlos Santana, Sting, B.B. King, and many more. He is a multi style guitar teacher and has five albums under his belt.
GuitarControl.com is the leader in modern guitar instruction. It's packed with recourses including articles, video lessons, and the best videos in the business for the beginner to the advanced guitar student taught by the best instructors out there. Weather you are into the blues, rock, jazz, metal, folk, or anything in between, they have you covered.