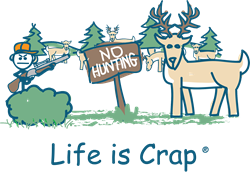 When you can't hunt, Life is Crap.
Manchester, Vermont (PRWEB) October 16, 2013
Last week, the government shutdown caused federal organizations to furlough tens of thousands of employees all over the country and in hundreds of federal agencies – including our State and National Parks and wildlife refuges. The shutdown has left many hunters dismayed and locked out of their favorite hunting grounds. The funny guys at 'Life is Crap' feel for these hunters and have created an entire line dedicated to the great outdoors and hunting.
While Democrats and Republicans still struggle to reach an agreement for the new fiscal year spending budget, local organizations anticipate the consequences of a long-term government shutdown and how it will impact each state. Life is Crap, a humor brand apparel and gift company in Vermont, has designed several new Hunting shirts and a Government Shutdown expression timed to release this week.
"In our own home state, we're really feeling it. It's a crappy situation at best," says Life is Crap partner, Paul Wheeler. "The federal shutdown hits Vermont extremely hard, during one of the state's busiest seasons for hunting, fishing, and wildlife viewing," Commissioner of Vermont Fish Commissioner of Vermont Fish and Wildlife Patrick Berry, said in a press release. "This is a time when rural communities across Vermont really count on the local revenues generated by hunting and fishing activities." This is the case with states all across the land. Yellowstone, Yosemite, Grand Canyon, Blue Ridge Mountains, Ozarks, etc ... are all suffering massive furloughs. On the state level, right at peak hunting season all over the country, state lands are being closed and wildlife management folks are being laid off or suspended.
Vermont currently has several hunting seasons open, including moose archery, bear, ruffed grouse, woodcock, rabbit, and squirrel (yeah, it tastes like chicken!) — all of which normally occur on refuge lands. Turkey season is right around the corner as well. Trout fishing waters on the refuges, which typically are open until Oct. 31, are also off limits.
Life is Crap has launched a new line of Hunting themed shirts to help you laugh about this insanity. We've also launched our first ever government shutdown shirt! http://www.lifeiscrap.com
Life is Crap® is a humor based apparel company, with a focus on tees, hoodies, and gift items. Our brand focuses on crappy situations and pokes fun at the humor within those situations. At Life is Crap® we believe that the universal cure to crappy situations is laughter. We believe that poking a little fun at ourselves, and the world, is the best way to get through those occasional lousy moments. Life is Crap® is the flagship brand of Offsides Branding & Licensing. For more information visit lifeiscrap.com or offsidesbranding.com.
Remember, Crap Happens and Laughter is the Cure!