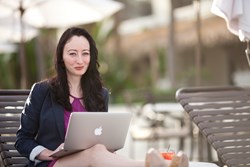 Young women today don't want to 'lean in' by giving decades of their lives to corporations. We want to creatively design our own careers and lives. - Jennifer Dziura
Miami, Florida (PRWEB) October 14, 2013
For most people, the weekend after Thanksgiving is one of the least productive of the year.
But not for the young women converging in Miami this November 29th for The Bullish Conference, named after Jennifer Dziura's column "Bullish," which has been offering "aggressive lady-advice" about careers and life since 2010.
This approach is summed up in Dziura's most-cited column, "Maybe Work-Life Balance Means You Should Work MORE." Dziura, who lives on Wall Street in New York, believes that work-life balance is for "when you're old and wrinkly," and that today's economy means young women need high-powered approach, especially in the "launch" years after college.
The symbol of Bullish is the bullicorn – a bull with a unicorn horn – the perfect symbol for women who believe in an aggressive approach to their careers, but with some fun and whimsy.
The Bullish Conference features keynote speaker Laura Vanderkam, author of "168 Hours: You Have More Time Than You Think," and an interactive negotiation training from negotiation expert Ji Eun (Jamie) Lee. Dziura will lead a workshop on Designing Your 2014.
Bullish Conference 2013 will take place at The Surfcomber Hotel in Miami, Florida, from November 29 – December 1, 2013. Registration is open now. For complete details visit http://www.bullishconference.com.
Quotes from women who are attending:
"I'm at a point in my career where I have a handful of creative ventures that are on the precipice and have the potential to thrive as a business, a brand and maybe things I don't even know are possible. I am confident that the Bullish Conference will have a huge impact in taking me to that next level. Who doesn't want to plan a business in a bathing suit?" - Hillary Rea
"I'm attending because I want to acquire skills and advice on moving outside of traditional 9-5 employment from other women, rather than from men. It's becoming increasingly clear, I think, how completely flawed that kind of employment is for (my) feminist goals in a lot of ways, and I think it's useful to have these discussions. Plus, drinking on a beach! I love drinking beaches." - Emily Chapman
About the organizer:
Jennifer Dziura is the author of Bullish, a career and life advice column for young women that began in 2010. The column appears on TheGloss.com and is headquartered at GetBullish.com. Jennifer started her first company, an Internet marketing firm, during her sophomore year at Dartmouth College, and had eight part-time employees by the time she graduated in 2000. Since then, she has started several businesses in the education space. Jennifer has been featured on the Oprah Winfrey Network, heard numerous times on NPR, and is author or co-author of over a dozen educational books.
About the keynote speaker:
Laura Vanderkam is the celebrated author of All The Money in The World: What The Happiest People Know About Getting and Spending, 168 Hours: You Have More Time Than You Think, and Grindhopping: Build A Rewarding Career Without Paying Your Dues. She writes for CBS MoneyWatch, The Wall Street Journal, City Journal, Scientific American, Reader's Digest, Fortune.com, amongst other publications.