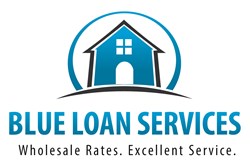 San Diego, CA (PRWEB) October 14, 2013
Blue Loan Services, a CA mortgage lender, provides wholesale rates for home purchase and refinance loans, as well as access to the most trusted California mortgage lenders and specialized loan products for many years. The company's website offers a number of tools that homeowners and home buyers can use to find the best mortgage scenarios for their unique financial situations and lifestyles, as well as news on the latest mortgage trends and other stories that affect mortgage rates and home prices. The company, headed by senior loan officer, Brandon Blue, and his father, Robert Blue, is dedicated to serve its customers with honesty, integrity and competence. Most informed mortgage borrowers have been eyeing the current situation in the mortgage world warily, as the shutdown, debt ceiling and delayed economic data have all combined to make for a very uncertain future for interest rates. However, there is some hope that the new Federal Reserve Chair should stabilize mortgage rates and make for a more favorable environment for those looking for the best home finance or refinance savings.
Janet Yellen was recently confirmed as President Obama's nominee to succeed Ben Bernanke as the Federal Reserve's Board of Governers' Chairperson. Yellen, a professor and economist, has served as the Vice Chair of the Board since 2010, and once she officially takes over would be the first woman to ever head the Fed. So what should borrowers expect from the apparent future chair? How will the transition from one Chairperson to the next affect the Fed programs that are in place at the moment? An article posted by Mortgage News Daily on October 9th explains:
"Yellen has been a close ally of Bernanke and is generally expected to continue his accommodative monetary policies as long as they're warranted. In March she said, that the Fed would keep its monetary stimulus in place even as the economy recovers. "We would not consider selling assets off until the federal funds rate has increased, so that accommodation will be in place for a long time," probably until the economy was well into recovery. She has also been noted for her willingness to risk inflation in favor of stimulating employment. Despite her recently more dovish tone, she is not known for blindly adhering to an ideology, instead adapting to changing conditions--and quite well. In July, the Wall Street Journal ranked FOMC member forecasts. Yellen had the top score of .52, followed by Dudley at .45. The lowest score was -0.01."
So by all appearances, Yellen should continue to make things easy for mortgage borrowers, while also keeping the Fed as functional as possible. Known for her very accurate financial predictions, even warning of the 2008 financial crisis as early as 2005, Yellen is more than capable of leading the Federal Reserve through the less than perfect financial situations the United States has found itself in, and her foresight should help steer it clear of many of the dangers that lie ahead.
Blue Loan Services sees the transition as a good sign, as Yellen will likely bring more stability to a very volatile mortgage market. This will help more potential borrowers to find reasonable mortgage rates and start their journey towards home ownership. The California loan company is, as always, ready to assist loan borrowers in finding and obtaining the best possible loan scenario for their situations. Their fast online loan application and documentation portal makes it simple for clients to submit their application and keep track of their loan's progress. With a reputation for fast, reliable and courteous service, the company's team of mortgage professionals can be especially useful during this time of rapidly changing mortgage rates.
For more information on how Blue Loan Services can help California home loan borrowers get approved for their home purchase loan or refinance quickly, please visit BlueLoanServices.com or call 1-888-929-BLUE (2583) to speak with an experienced mortgage professional.
CA Dept of Real Estate -- Licensed Broker #01094374 NMLS #938365