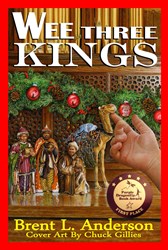 We rarely see depictions of persons with mental illness in popular media with traits like humanity, care, and compassion; I wanted to show that truth with the character of Charlie.
(PRWEB) October 22, 2013
Stigma about mental illness is prevalent in our culture from characters in cinema to network news stories. For example, reporters often stress a history of mental illness in the backgrounds of people who commit crimes of violence while ignoring that 1 in 5 Americans live with a mental disorder.
One book doing its part to fight stigma is "Wee Three Kings" by Brent L. Anderson. It has characters from all walks of life including the likable, endearing Charlie - a schizophrenic homeless man who aids the main characters in the book's dramatic climax.
Anderson is the Executive Director of a private non-profit that advocates for persons with mental illness. He admits that real people influenced some of the characters in the book that is getting rave reviews from industry giants like Kirkus.
Since 1933, Kirkus has been one of the most trusted and authoritative voices in book discovery. They recently gave "Wee Three Kings" a glowing review:
"As Christmases come and go, the figurines are passed from place to place: an orphanage, a military submarine, a naval hospital, a retired couple's home, a pastor's family's house, and others. They use their once-a-year gift of life to aid and comfort human beings young and old, rich and poor, black and white… Anderson leavens this Christian book's evangelism with deft humor, likeable characters and a buoyant sense of magical adventure." – Kirkus Reviews
Anderson states that the Charlie character is a culmination of people he has become friends with through his work.
"We rarely see depictions of persons with mental illness in popular media with traits like humanity, care, and compassion; I wanted to show that truth with the character of Charlie," Anderson says.
Originally, "Wee Three Kings" was just going to be a Christmas present for his kids. However, the story grew into a book and this family project is quickly growing into a success story. He has used the book to promote charities and causes including adoption, orphan care, support for wounded soldiers, and mental health.
Anderson's book won a First Place award (with a perfect score) from Purple Dragonfly Book Awards and received a Five out of Five Star review from ForeWord Clarion Reviews.
"Wee Three Kings has what it takes to become a holiday classic… Positively enchanting from start to finish...the book charms from adventure to adventure, with hilarious moments contributed by the wee but mighty camel …tremendously appealing…" - ForeWord Clarion Reviews - 5 of 5 Stars
"Wee Three Kings" is a family-friendly tale where six-inch tall ceramic figurines of the three wise men and their comical camel come to life each Christmas season. Changing hands, they weave in and out of different lives and travel around the world to complete missions of faith and goodwill.
During the grand release in November 2012 Anderson used book sales to raise money for three charities. For Christmas 2013 Anderson will continue using the stories and characters contained in the book to follow his own mission of promoting faith and goodwill towards others. "Wee Three Kings" can be found in paperback and Kindle versions at Amazon, Barns & Noble, and the "Wee Three Kings" website.
About:
Brent L. Anderson's eclectic experience meets the definition of a renaissance man even though he's not fond of that overly used term. He is the author of the award winning book, Wee Three Kings, he is an inventor with two U.S. patents (with others in the works) and he is one of an elite few to receive a black belt from martial arts legend Jim Harrison. Brent's talents include drawing, painting, graphic design, and making a perfect espresso. He has acquired millions in grant funds for various non-profits during his career in the human services field and is the owner of a security consulting business and martial arts school. He takes inspiration from the words in Micah 6:8 –Act justly – love mercy – walk humbly.