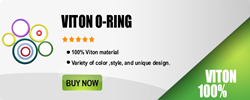 (PRWEB) October 13, 2013
TOGOHK.com, the best brand of silicone chocolate molds, has announced they are now offering a new collection of Viton gaskets; custom Viton gaskets are also available at TOGOHK.com. All the Viton gaskets are available with big discounts nows, up to 31% off.
According to the spokesman for the company, the Viton gaskets are designed to accommodate the performance expectations of any industry. The used material is of high quality to meet various customers' needs. The company is launching a promotion of Viton gaskets now.
"Our custom products are specially designed for the high-end customers, who always have special requirements for product quality. Each one will last much longer than normal gaskets," says, the spokesman.
TOGOHK.com's products consist of silicone cases, silicone kitchen utensils, silicone bracelets and other silicone products. Its updated website can expedite transactions and create a more memorable shopping experience for clients.
About TOGOHK.com
Founded in 2003, TOGOHK is an innovative silicone product solution for wholesalers and retailers around the world. The company that has developed into a modern enterprise that offers its clients worldwide a one-stop silicone product solution from conception to delivery. With high technology engineering and advanced CAD and CAM, the company has been serving more than 3000 customers from over 70 countries.
For more information about the business, please visit their website at: http://www.togohk.com/Viton-o-rings-size-chart/