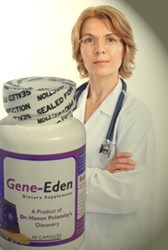 Surprisingly, it is very common to be infected with many strains of HPV. Some may be high risk, some may be low risk, some may infect the genitals, some the mouth, some the anus. It's unpleasant and risky. – Mike Evans, polyDNA
(PRWEB) October 13, 2013
Is it possible to be infected with more than one type of the Human Papillomavirus (HPV)? It is actually common to carry more than one strain (type) of HPV, according to a new study by researchers from the Copenhagen University Hospital (1).
In general, it is more common for women with genital warts to also have high risk HPV types in the anal region. "It seems that anal HPV is not as common in men as in women (1)." The exception to this is in men who have sex with men. In this group up to 62% had anal HPV. "The period prevalence defined as having an HPV infection either at enrollment or at the 6-month visit was… several folds higher (62.2%) (1)."
On the other hand, men were found to have higher rates of oral HPV along with genital wart infection. "In the oral rinse samples HPV 16 was the most frequently detected HPV type. The prevalence of oral HPV was 12.1% in men and 6.9% in women (1)." In addition, "The prevalence was higher among men than among women. Oral HPV was uncommon among sexually inexperienced individuals and increased significantly with number of sexual partners (1)."
Authors of the study summarized their findings by writing that "In conclusion, in both men and women with genital wart-like lesions multiple HPV infections are often present and extra genital HPV is common. Both genital and anal high-risk HPV are more prevalent in women than in men, while in oral high-risk HPV could be more prevalent in men (1)."
"Surprisingly, it is very common to be infected with many strains of HPV. Some may be high risk, some may be low risk, some may infect the genitals, some the mouth, some the anus. It's unpleasant and risky." – Mike Evans, polyDNA
polyDNA would like to propose Gene-Eden-VIR, a safe and effective HPV remedy to people suffering from multiple HPV infections. A new clinical study has provided evidence for the safety and effectiveness of this natural product (2). The study was published in the peer reviewed, medical journal Pharmacology & Pharmacy, in a special edition on Advances in Antiviral Drugs.
In that study, Gene-Eden-VIR was shown to reduce HPV symptoms in individuals already infected with HPV. Study authors wrote that, "individuals infected with the HPV, … reported a safe decrease in their symptoms following treatment with Gene-Eden-VIR (2)." The study authors also wrote that "We observed a statistically significant decrease in the severity, duration, and frequency of symptoms (2)."
To learn more about Gene-Eden-VIR, visit http://www.gene-eden-kill-virus.com. All orders of Gene-Eden-VIR are completely confidential, and no information is shared or sold to any third party. Privacy is assured.
###
References:
(1) http://www.ncbi.nlm.nih.gov/pubmed/24096893
(2) http://www.scirp.org/journal/PaperInformation.aspx?PaperID=36101
polyDNA is a biotechnology company that develops dietary supplements using the unique scientific method developed by Dr. Hanan Polansky, which is based on Computer Intuition.
In addition to his unique scientific method, Dr. Polansky published the highly acclaimed scientific discovery, called Microcompetition with Foreign DNA. The discovery explains how foreign DNA fragments, and specifically, DNA of latent viruses, cause most major diseases.
polyDNA developed Gene-Eden-VIR, an antiviral natural remedy that helps the immune system kill latent viruses.