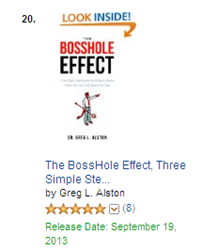 The Superior Man Understands What is Right, The Inferior Man Understands What Will Sell. Leadership is based on Doing What's Right.
Charlotte, North Carolina (PRWEB) October 15, 2013
Famous authors sell the majority of books on Leadership and Management. These authors are well-known because they are highly visible on television and in the media. But every now and then a book will rise up the charts against overwhelming odds simply because it has a great story to tell. The BossHole Effect, describes the negative impact that bad bosses have on our lives and then offers a practical set of simple strategies that anyone can follow to become a great boss or simply lead a successful team. This powerful story resonates with anyone who has ever suffered at the feet of a BossHole. And as of October 13, 2013 the book published by Mill City Press has risen to number 20 on the List of Hot New Releases in business management.
Using his 35 years of leadership and management experience in business and coaching, Dr. Alston teaches readers how to transcend The Bosshole Effect and be the type of person who inspires effectiveness, productivity, and success.
He has worked for 35 years in the chain drug and healthcare industries, supervising thousands of employees, working for hundreds of bosses, and thwarting BossHoles at every turn. He has a unique ability to provide clear, actionable advice based on real world experience. And has taught his theory of value creation to hundreds of pharmacists. His research developed the 10 Factor Rating Your Boss Tool.
As a Co-editor of the premier textbook on management for pharmacists, Pharmacy Management Essentials for All Practice Settings Third Edition by McGraw-Hill, he also penned chapters on Value Creation and Operations Management and has numerous articles published in academic journals, such as the American Journal of Pharmacy Education, The Journal of the American Pharmacists Association, Research in Social and Administrative Pharmacy and others.
In addition to writing The BossHole Effect, Alston's first non-academic book, he also produces a YouTube channel and blog about The BossHole Effect.
Author Brief Biography
Greg L. Alston is an Associate Professor of Pharmacy Management and Assistant Dean for Assessment at Wingate University School of Pharmacy in North Carolina. He has a unique resume of management success. He graduated cum laude with a Doctor of Pharmacy degree from the University of the Pacific while simultaneously becoming a credentialed K-12 teacher through the School of Education.
Management Experience
During his years in the chain drug industry he was the first in his graduating class promoted to pharmacy manager, and was the first pharmacist to become corporate training manager, marketing manager and general category manager on the buying staff for Sav-on Drugs. He went on to become a Regional Pharmacy Manager for Thrifty Drugs and the California Regional Pharmacy Manager for Smith's Food and Drug. After 15 years in the chain drug industry he founded and operated Draculas Castle Halloween shops and Best Pharmacy and Medical Supply in Southern California.
National Award
After selling the healthcare businesses in 2007 he "retired" to become the Assistant Dean at Wingate University School of Pharmacy and within 18 months earned the National Award for Excellence in Assessment from the American Association of Colleges of Pharmacy in 2009. He currently teaches Pharmacy Management and Communications Skills courses and frequently consults with corporate clients and individual pharmacists looking to solve their most perplexing problems.
President of GLA Consulting Inc.
GLA Consulting Inc. is based in Charlotte, North Carolina and provides Professional Business Skill Training and Coaching to Healthcare Professionals nationwide. Dr. Alston has spoken at numerous national conferences and is the originator of the Relative Value Theorem.