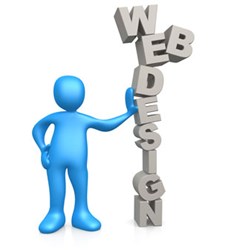 Your ideas for increasing traffic and exposure have been cost effective and worked well. M. Cooper
Toronto, Ontario (PRWEB) October 15, 2013
Every business wants more qualified website traffic. In fact, the more traffic a website receives can translate to an increase in sales.The problem that creeps up quite often when first planning a custom website design, is that some basic precautions are sometimes ignored in favor of having extraneous web design elements used on the company website, which can be a big mistake.
In Front Media's Creative Director, Len Doren, offers this, "When we create a new responsive website design for a client, some of the most common aspects we factor into the design process include; good use of colours, compelling web page content, logical site navigation, the usage of images, along with gathering traffic statistics. There are many other criteria needed for effective design, but these are just a few standard principles."
But not all websites on the Internet adhere to these common principles. There are countless unnecessary elements installed on so many sites today, and site owners are not aware that those components can actually detract from the user experience and blur the reasons as to why a visitor came to the site in the first place. Len adds, "Part of my job here at In Front Media is to help educate clients that it's not necessary to add extraneous features or elements to any web design project, 'just because it can be done.'"
To help clarify what not to do when planning a new website design, here are 5 of the top mistakes to avoid with any new design or re-design project.
1. Targeting anyone that is breathing.
Determine the desired target audience. If the target audience age is 20-35, then a design that is youth-oriented, geared towards that age group, is essential. This age group is also very "mobile" so a "responsive design" that renders web pages for all types of internet devices should be mandatory.
2. Awkward colour combinations.
First impressions are vitally important. If the colour combinations or graphic contrast hampers the user interest or attention, it can result in lost sales. So IFM suggests that site owners experiment with various combinations and then ask friends and associates to visit the company website and advise what was good, and what was not so good. There are many tools available on the internet that can help assess colours and contrast as well.
3. Poor Navigation.
Poor navigation is one of the most common factors responsible for sending website visitors straight to the competition's website. IFM suggests making sure the most important pages on the site get top priority in the site's navigation. Make sure to group logical pages together using a drop down menu, for example. In other words, make it easy for visitor to find the information they came for.
4. Excessive amount of scrolling.
Most site visitors will digest more about a company website page if there is sufficient viewable information when a web page loads in the browser, without having to scroll down the page to get at the good information. Today, the temptation is to fill the browser window with large graphics, headers and "sliders". IFM suggests ensuring the header graphics use no more than 30% of the viewable area "above the fold", ensuring important information/navigation can be easily seen without any scrolling.
5. Poor or No Call to Action.
When it comes down to it, great information is just "information". Website visitors need to be guided or prompted to follow a path from being informed, to making contact with the site owners. Use contrasting coloured text or strategically placed graphics at various positions on a page to prompt visitors to visit the "Contact" page.
The above points are just basic pointers and suggestions. IFM advises business owners to speak to a reputable local website design company to answer any questions regarding how to increase traffic and conversions for more business.
IFM Web Services offers WordPress development, Social Media Optimizing, Search Engine Optimization and standard Web Design services and is located in the Toronto area (GTA). For more on Social Media, SEO or Web Design for businesses, visit http://www.ifm.ca