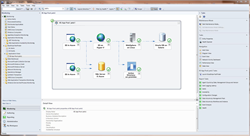 The combined solution of System Center and FactFinder elevates System Center from infrastructure management to include complete application management.
Research Triangle Park, NC (PRWEB) October 14, 2013
BlueStripe Software, whose FactFinder Transaction Monitoring software integrates real-time, dynamic application maps and performance alerts into Microsoft System Center 2012, today announced new enhancements to its core product. FactFinder now adds automatic, role-based visualizations to the live distributed application views it provides for System Center Operations Manager. With the new capabilities IT Operations teams see immediately what role each component plays within a distributed application without requiring any manual user configuration.
When deployed together with System Center 2012, FactFinder provides automatic creation and updating of Distributed Application Views inside Operations Manager. The combined solution extends System Center to cross-system (Windows + non-Windows) and hybrid (cloud + datacenter) distributed applications, elevating System Center from infrastructure management to include complete application management.
FactFinder's new role-based visualization for Operations Manager Distributed Application diagrams automatically provides an instant visual cue to the purpose of any given server or component. At a glance, IT Operations team members can identify all of the systems within each application, the breakdown by each functional tier – web, application server, database, middleware, etc. – and how each component is impacting overall application performance.
"Seeing end-to-end distributed application maps inside System Center Operations Manager helps IT Operations bridge the gap between their applications and the infrastructure that supports them," said Chris Neal, BlueStripe CEO. "The new functionality will streamline IT Operations workflow even further, and help teams manage application performance issues that much more quickly."
FactFinder automatically discovers, maps, and monitors all business transactions running within the data center and across the Cloud. FactFinder measures performance, hop-by-hop, everywhere that transactions go, across tiers, across platforms, and across architectures – even into virtual machines, public, private, and hybrid cloud, as well as third party services. When performance or availability problems occur, FactFinder follows the slow or hung transaction right to the problem component, and then drills down the server stack to determine why the problem occurred.
A member of the System Center Alliance, BlueStripe has delivered integrated solutions with Microsoft System Center 2007 R2 and System Center 2012 for several years. While each solution can each stand alone, together FactFinder and System Center make a powerful combination for IT Operations teams of all sizes.
About BlueStripe
BlueStripe Software is a leading provider of Transaction and Application Monitoring Solutions for IT Operations and Support teams. BlueStripe's flagship Transaction and Application Performance Management software, called FactFinder, delivers Transaction Monitoring, Application Performance Monitoring, and Server Monitoring together in a single tool, tracking transactions end to end across the data center and through the cloud. This transaction-centric Application Management approach allows IT Operations teams to know where Transactions go, where they get stuck, and why. For additional information, please visit http://bluestripe.com.