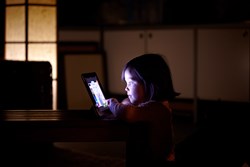 "Anything we can do to help families enjoy their eating experience with us the better." - Marc Saunders, Marketing Manager
London (PRWEB UK) 14 October 2013
London based mobile app provider, HG Apps Store has just announced a link up with J D Wetherspoon plc to promote their latest mobile game Bodswap.
"Bodswap is a family based drawing game designed to keep the entire family unit entertained, whilst out for a meal," says Jamie Vaughan, CEO of HG Apps Store. He continued, "as a parent myself, I understand the difficulties, particularly with younger children, so wanted to create something that was engaging for all. I was also keen to find a partner who values the family experience."
J D Wetherspoon operates 890 pubs across the UK, "Food is an important part of our offering and we have seen fantastic growth in our 'Kids Menu' meals. Nowadays it's hard to find a family group where someone is not using a mobile phone or tablet, so anything we can do to help them enjoy their experience with us, the better," commented Marc Saunders, Marketing Manager, Wetherspoon.
Bodswap is a free game, which can be accessed via a QR code on the front page of the Kids Menu in each of the company's pubs in the UK. Bodswap can presently be played on an iPad with the iPhone version available in November and Android later in the Year.