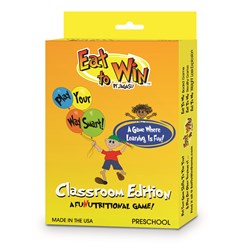 Eat to Win teaches children about nutrition through games.
Highland, Michigan (PRWEB) October 16, 2013
Jammi (pronounced Jamie) Roscoe, the Founder of Eat to Win LLC, makers of FunNutritional games and products, will be presenting a session titled "Childhood Obesity--Reaching Children Where They Are" at upcoming state conferences of the American Alliance for Health, Physical Education, Recreation and Dance (AAHPERD).
AAHPERD is the largest organization of professionals involved in physical education, physical activity, dance, school health and sport. Its mission is to advance professional practice and promote research related to health and physical education, physical activity, dance and sport –with an end focus of improving the health and well-being of the American public.
The conferences are scheduled to take place in Tennessee and Indiana in October, Illinois and Michigan in November, and Ohio in December. Eat to Win will also have a presence at the Wisconsin chapter conference in October, although no presentation is scheduled at this time.
The theme of the presentation is showing how one can relate to children through the use of music, games and fun. Attendees are able to put themselves into the seat of a child for the day and consider how childhood learning is different from adult learning. This presentation has been very well received at prior conferences. Cheryl Hurley, an attendee from Saints Tabernacle Day School, said, "This is the best thing I've seen for children," and added that she would love to bring the entire Eat to Win Program into their schools.
Jammi Roscoe, Chief Executive Director of Fun for Eat to Win, says, "We had great success at the National AAPHERD Conference this past year. We are presenting at these state conferences at the request of state representatives who saw our work with child obesity at the national conference."
"We are particularly excited about the opportunity to demonstrate our approach to teaching children the importance of healthy eating habits and physical activity," added Gary Gabel, Co-Founder of Eat to Win. "These sessions obviously accomplished that."
For more information, please visit http://www.eattowingame.com.
About Eat to Win:
Eat to Win was created by a concerned mom whose own child struggled with being overweight. Child obesity in America has become a major issue. An unhealthy lifestyle is a common problem among children and adults. Eat to Win was created to help encourage nutrition and exercise through fun and active games. Please share your stories with us on Facebook and Like Us to receive a discount! Our games are in agreement with ChooseMyPlate.gov.