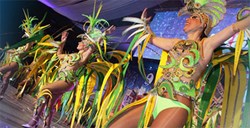 Marlton, NJ (PRWEB) October 15, 2013
Intrepid Vacations (http://www.Intrepid-Vacations.com) is pleased to present a festive and extremely affordable, air-inclusive fall and winter Spain vacation package to experience Carnival in Santa Cruz de Tenerife. This Spain vacation deal takes travelers to enjoy the parades and parties of Carnival season in Santa Cruz de Tenerife, including international air travel, hotel accommodations, as well as breakfast and lunch daily, plus much more!
Experience the Santa Cruz de Tenerife Carnival – 8 days for $1899.

Round trip airfare from your selected gateway
6 nights at Hotel Puerto de la Cruz (or similar)
Buffet breakfast daily
Buffet lunch at the hotel daily
Airport taxes, fees and airline fuel surcharge
Arrival/departure transfer bus between airport and hotel
Round trip transfer to Announcement Parade and Coso Parade
Entrance and 1 drink ticket to local disco in Puerto de la Cruz
Travel Dates:
February 27, 2014 – March 6, 2014
Gateways & Rates:
New York from $1899 per person
Los Angeles from $2498 per person
Miami from $2395per person
Chicago from $2095 per person
About the Santa Cruz de Tenerife Carnival itinerary: Travelers will join thousands of people celebrating freedom and extravagance with rhythm, color and dance on Intrepid Vacations' Santa Cruz de Tenerife Carnival vacation package! A variety of performances will be enjoyed each day with private round trip transportation between the festivities and the hotel. The Santa Cruz de Tenerife Carnival is the most "Brazilian" of all of the Spanish carnivals and is held in the capital of the largest of the Canary Islands every February/March. One of the main events is the gala to elect the Carnival Queen, held on the first Wednesday, featuring contestants in bright (and sometimes very heavy) costumes. Once the queen is elected, thousands of people and musical groups fill the streets for hours of parade dancing and partying. A variety of parades and celebrations occur each day and lead to "El Coso," the grand finale, marking the end of carnival with large dancing groups, floats, decorated cars and more. For more information, visit: http://www.intrepid-vacations.com/Tenerife-Carnival.aspx.
To Book: For more information, call 800-505-5497 or visit http://www.intrepid-vacations.com/Tenerife-Carnival.aspx. Package prices are per person round-trip, based on two persons traveling together and include airport taxes, fees and airline fuel surcharges.
About Intrepid Vacations
Intrepid Vacations is dedicated to delivering travel programs that take travelers to truly experience destinations throughout Europe and the Middle East in an authentic and inspired way. Each itinerary is developed to offer travelers an unparalleled experiential, cultural and social travel program. The company offers an expansive array of travel programs including Independent Travel Packages, Escorted Motor Coach Tours, Honeymoons, Fly and Drive Tours, Culinary/ Food & Wine Tours, Group Tours, Nile River Cruises, Aegean Cruises, as well as fully customized trips.
Intrepid Vacations travel programs include centrally located accommodations, deluxe motor coach or private car transfers, breakfast daily, knowledgeable tour escorts or local guides during sightseeing and attractions visits, guaranteed departures on escorted tours with a minimum of two persons for select destinations. For more information or to book travel call 800-505-5497 or visit Intrepid-Vacations.com.
###
MEDIA CONTACTS:
Marlene Oliver, NJC Communications
(305) 491-0512, moliver(at)njccorp(dot)com
Tyler Sminkey, NJC Communications
(786) 390-8510, tsminkey(at)njccorp(dot)com