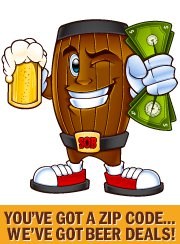 Our focus has always been to brew the best beer possible and to constantly experiment with new beers.
Houston, TX (PRWEB) October 16, 2013
Deschutes Brewery is best known among craft brew enthusiasts for their Black Butte Porter, The Abyss American Double Stout, and Obsidian Stout. Yet, their lighter IPAs also enjoy high ratings on popular beer review sites like Rate Beer and Beer Advocate as well. What started as a small Bend, Oregon brewpub in 1988 has grown to be the fifth largest independent craft brewery in the nation.
"Our focus has always been to brew the best beer possible and to constantly experiment with new beers, techniques and ingredients," Deschutes' Digital Marketing Manager Jason Randles told SaveOnBrew in an exclusive interview published Tuesday. He adds that having two brewpubs with 19 taps each allows the brewery to "play around and come up with new styles and flavors."
One of these new beers is Green Monster, an extremely limited, oak-aged sour beer that hit the shelves in September. "It was a beer that was accidentally brewed with the wrong ingredients that we decided to fill oak barrels with, rather than dump down the drain," Randles explains. "We pitched in some Brettanomyces and tucked the barrels away in the back corner of the warehouse to see what would happen. Fortunately, the result was a fabulous sour beer. It's always nice when accidents turn into something magical."
Deschutes tests every beer in their brewpubs before they make it to bottle. "A beer that really works and flies out of the tap handles in our pubs may eventually make it into the bottle and become widely distributed in our Bond Street series," says Randles. One example of this is Hop in the Dark, which survived 21 test brews in the pubs and later enjoyed its official roll-out. Other experimental beers didn't make the cut. A Black Butte XXII Imperial Porter anniversary beer didn't leave the pub when the chocolate formed a strange film. The brewery is also still looking to perfect recipes for a Belgian-style IPA and Hefeweizen. "That's the beauty of brewing beer," Randles tells SaveOnBrew.
The interview also features late-breaking news about several new beers coming out in bottle this year, as well as details on events in Nebraska and Philadelphia. He discusses how many beer tasters they have on staff, the best Deschutes beer to have with pumpkin pie, and the best Deschutes beer to have after a long bicycle race.
SaveOnBrew.com lists local retail beer prices from coast-to-coast to help consumers save money on the beer they love. Users can search by store, beer brand, packaging type, or beer style. They can also get maps to the nearest retailer selling beer on sale. In addition to the beer locator function, there is also a blog updated daily with beer news, lists, editorials and exclusive interviews. Visit http://www.SaveOnBrew.com or http://www.Facebook.com/SaveOnBrew for more details.
# # #
Founded in 2010 to help thirsty beer drinkers across the United States find the lowest advertised prices for one of the world's most popular beverages.