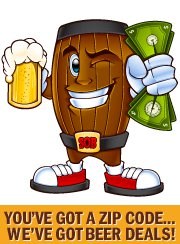 Brewing beer at home will save drinkers the most money, but our beer deals website is a close second for the frugal consumer.
Houston, TX (PRWEB) October 14, 2013
Monday, October 14th commemorates a special holiday for craft brewers: Home Brew Legalization Day. On this day in 1978, President Jimmy Carter signed a bill making it legal for Americans to make their own beer, which has led to the craft brew explosion we are in the midst of enjoying today. In celebration of the big day, the gang at SaveOnBrew has posted a whopping 19 million beer sales from all across the country over the past three years to help consumers save money on their favorite beers.
"Today is truly a historic day for beer brewers and enthusiasts," says SaveOnBrew's Mark Davidson. "It's arguably the second most important holiday, next to the repeal of Prohibition. We encourage all beer lovers to pick up a kit and dabble in brewing their own creations in their kitchens to celebrate their right to experiment. Of course, in doing so, you'll need a few ready-to-drink brews in the fridge, which is where our site comes in. Brewing beer at home will save drinkers the most money, but our beer deals website is a close second for the frugal consumer."
At SaveOnBrew.com, users simply enter a zip code to pull up a comprehensive list of beer sales in the region. Prices, containers, beer types, brands and retailers are all listed for easy comparison shopping. Users can also sign up for "Beer Alerts" to be notified when and where their favorite beers go on sale locally.
"We list more than 7,000 microbrews on our site," Davidson explains. "Who knows? Maybe your homebrew will make the list one day! Every Tuesday, we interview brewmasters and industry professionals and a common theme is that they all started out through a process of self-education brewing beer with friends in their kitchens. In fact, most of them still do their small test batches this way! If you dream of running your own brewery and doing what you love, forget brewing school. Just jump right in!"
Of the 19 million beer deals SaveOnBrew.com has posted, the brewer's variety packs seem to go on sale most often. IPAs, American Pale Ales and Red Ales also see a lot of special promotions, as do unusual fruit/vegetable beer offerings. "We do see stouts go on sale, but less frequently. Imports almost never go on sale, although we did surprisingly see generous Guinness promos last St. Patrick's Day for the first time," Davidson says. "Now is a good time to look for hundreds of cider and Oktoberfest deals."
People interested in home brewing can visit SaveOnBrew, looking under "Resources" and "Friends of SOB" to find links for home brewing supplies, educational forums and home brew troubleshooting. The site's Beer Blog is also packed full of information about brewing science in the "Beer101" section.
# # #
Founded in 2010 to help thirsty beer drinkers across the United States find the lowest advertised prices for one of the world's most popular beverages.