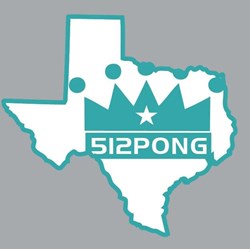 Professional players don't actually play with beer, they use water instead.
Houston, TX (PRWEB) October 18, 2013
SaveOnBrew.Com, the world's only beer price-search engine, recently interviewed Rob Bailey, head honcho of 512PONG, an Austin, Texas-based beer pong tournament organizer.
"I've been doing this for five years and it keeps getting better and better," Bailey told SaveOnBrew. In the past two years, Bailey's tournaments have spawned ten teams that competed in the World Series of Beer Pong. "Regional winners are sent to Vegas to compete. The winning team receives bragging rights and fifty-thousand dollars."
The game, typically played by two teams of two, has each player tossing a ping pong ball across the table into one of ten cups of the opposing team. When the ball lands in the opponents cup, the cup is removed. When all of the opponents cups are gone, the other team wins.
"A lot of people might remember beer pong from their college days, but professional players don't actually play with beer, they use water instead." Bailey explains that this is not only for sanitary reasons, but because "professional teams can really make some serious money playing tournaments. They don't want their reflexes impacted by downing beer after beer."
In the SaveOnBrew interview, Bailey discusses the history of the game, how the tournaments are structured, and how women and becoming more and more involved.
This exclusive interview is orchestrated by SaveOnBrew.com, America's only beer price-search engine for beer advertised deals. Users simply enter a zip code to access a list of beers on sale locally. In addition to running a bustling main site with more than 2 million pages views in 2013, more than 2,000 people have also downloaded their mobile app which features beer deals, exclusive content and maps to retailers selling beer on sale. Exclusive content is yet another way that SaveOnBrew continues to pioneer and bring craft brew fans relevant information.
# # #
About SaveOnBrew.Com: Founded in 2010 to help thirsty beer drinkers across the United States find the lowest advertised prices for one of the world's most popular beverages.