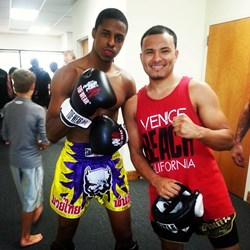 We had a lot of guys who had never competed before who came out and they got a very valuable training experience.- Aungla NSang, Professional MMA Fighter
Baltimore, MD (PRWEB) October 13, 2013
Maryland MMA Academy, Crazy 88 Brazilian Jiu-Jitsu, held a Muay Thai Kickboxing "Smoker" event on Saturday, October 12, 2013. This is an event where athletes who want to begin competition in Muay Thai can get a chance to experience what competition entails.
Crazy 88 Brazilian Jiu-Jitsu has consistently produced high level competitors in Brazilian Jiu-Jitsu, Muay Thai Kickboxing, and Mixed Martial Arts, and is one of the only schools in Maryland to host Smoker events.
A "Smoker" fight is an event where those who wish to compete get a chance to spar someone from another school. No winner or loser is decided at the end, the event is purely meant to provide constructive feedback and the experience of competition to the athlete. Smoker fights provide an ideal first step for aspiring competitors.
The event involved several other schools in the area including Virginia-based Outfox MMA, Aberdeen area's Top Flight MMA, and Towson's Wrightson BJJ. There were over 20 competitors and 12 match-ups. Many of the athlete's friends, family, and teammates came out to support them. This gave the athletes the chance to experience fighting in front of a crowd against a person they do not know in a safe scenario.
Muay Thai coach, Aung La Nsang, said,"We are excited to be able to hold an event like this for competitors who otherwise would have difficulty finding a way to compete in Muay Thai. We had a lot of guys who had never competed before who came out and they got a very valuable training experience."
To learn more about Aung La N Sang and the fighters of Crazy 88 - Elkridge visit http://www.BaltimoreMixedMartialArts.com or call (443) 283-1450.
To find out more about Crazy 88 - Owings Mills visit http://www.Baltimore-MMA.com or call (410) 999-1064.