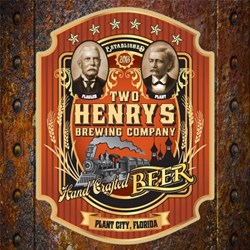 Plant City, FL (PRWEB) October 14, 2013
The official release of Two Henrys beer will be an all day celebration of craft beer at the first annual Biertoberfest. The free admission event takes place on Saturday October 19 from 10am-10pm at Keel and Curley Winery; the home of the new Two Henrys Brewing Company.
Two Henrys is named in honor of Henry Plant and Henry Flagler; two men who deserve much of the credit for opening up Florida to the world with their railroad and hotel empires.
In addition to the release of Two Henrys beer, Biertoberfest will be a beer lovers paradise with many craft brewers showcasing their finest beers. The event also includes a sanctioned cornhole tournament with a $500 cash prize for first place.
*What: (the event will feature)

approximately 40 arts/crafts/general vendors
Over a dozen homebrewers, some of which will be brew clubs featuring multiple selections
The award for the First Annual People's Choice Brew
One of Tampa Bay's largest cornhole tournaments with cash prizes (1st - $500, 2nd - $200, 3rd - $50)
Live music kicking off at noon with Charlie O (12 – 3pm), followed by Soul Circus Cowboys (3:30 to 6:30) and TC Carr & Bolts of Blue (7 to 11pm)
A mini food truck rally featuring trucks from TBFTR and other food vendors such as Skipper's Smokehouse, Jerky Rocks, Cottonwood Cupcakes, etc.
Kids zone with bouncy houses, etc.
*Where: Keel and Curley Winery/Two Henrys Brewing Company - 5210 W. Thonotosassa Road, Plant City, FL
*When: Saturday October 19, 2013 from 10am - 10pm
*Why Cover:
The event is the release of Keel & Curley Winery's newest addition, Two Henrys craft beer. Craft beer is a new adventure for Keel & Curley who celebrated their 10th anniversary last week. The Florida historical element of the story behind the name - railroad barons: Henry Flagler and Henry Plant.
*About Two Henrys Brewing Company
The Two Henrys Brewing Company brews modern and traditional hand-crafted beer styles in small batches in Plant City, FL. Because local and small is just better.
With our beers we celebrate Florida's short history and people that made our great state possible. We strive to make great beers and sneak in a Florida history lesson.
Our beers can be found at our tasting room starting in October 2013 and select bars and restaurants in the Tampa Bay area.
For more information visit twohenrysbrewing.com or facebook.com/twohenrysbrew.