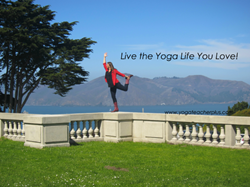 As Yoga Teachers we are taught to meet people where they are.
San Francisco, CA (PRWEB) October 15, 2013
"As Yoga Teachers we are taught to meet people where they are," says yoga educator and trainer of Yoga Teachers and Yoga Therapists, Nicole DeAvilla E-RYT500, RPYT, RCYT, host of this new event. Taking that directive literally, DeAvilla is going to where half a billion people spend time – many of them, estimated in the 10's of millions, are yoga teachers.
Yoga Teachers will benefit from the range of topics that will be covered by DeAvilla and guest experts. Familiar to Yoga Teachers, each session will begin and close with a chant. In addition to Q & A on the day's subject, a rare opportunity to ask DeAvilla and/or her guest expert questions about teaching yoga, personal practice, or yoga in daily life, will be given.
"One effect of practicing yoga is that it helps us to feel more connected to others. This new forum allows yoga teachers from around the world to not only learn together but also meet each other and share challenges and solutions." In fact sessions will be offered at different times to accommodate as many different time zones as possible. Each session will be recorded and available for a limited time for those who cannot make the live event.
DeAvilla is looking forward to this new adventure combining the best of technology and community. For more information and to register for the landmark first session and to be notified of future sessions, please visit http://www.22s.com/yoga108 and scroll down and click on the green registration button.
Nicole DeAvilla is the bestselling author and creator of The 2 Minute Yoga Solution: FAST and EASY Stress and Back Pain Relief for ANYONE at ANYTIME. She has been training yoga teachers for 28 years, was one of the members of the original Yoga Alliance Prenatal Yoga Standards Committee and is currently on the International Association of Yoga Therapists Accreditation Committee. To contact Nicole DeAvilla, please visit http://www.NicoleDeAvillaYOGA.net.