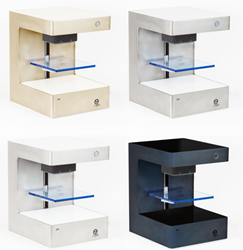 Stamford, Connecticut (PRWEB) October 15, 2013
ZEEPRO Inc., maker of Zim 3D consumer printers, announced today it has reached its lofty Kickstarter project funding goal of $300k.
Zeepro Zim is now on the top 10 list of successfully crowdfunded 3D printers, and 6th overall for FFF (Fused Filament Fabrication) technology, according to 3dprinterworld.com list.
Representing one of the most desirable personal 3D printers with its sleek design and innovative features, Zim is rapidly gaining support via its Kickstarter video, which has received more than 38,000 unique views since September 13th.
"It's clear that both consumers and early adopters are becoming more interested in 3D printing," says Zeepro's CEO, Philippe Guglielmetti," and Zim is widely seen as the first affordable consumer-oriented 3D printer to truly address their needs."
Zim's full suite of features include: dual color, on-board camera, Wi-Fi connectivity, a smart phone app, precision printing quality (50 microns), fast printing speed (110mm/sec.), refillable filament cartridges, optional heated platform, optional enclosure for the printing area, and an attractive design.
Zim has received Kickstarter pledges from supporters in 25 countries. Looking to the future, resellers have already signed letters of intent for 2,000 Zims to be delivered in 2014.
Zeepro, Inc.'s Kickstarter campaign ends Wednesday, October 23rd. The first round of dual color Zims for $799 on Kickstarter sold out to the first 200 backers. Dual color Zims are still available for $899 and single color Zims for $599 for 7 days on Kickstarter. The first batch of Zims will be shipped in March 2014.
About Zeepro: Zeepro aims to design and build the best personal 3D printers. Zeepro was founded by an experienced team of engineers, designers and entrepreneurs. The company has 12 full time employees with operations in both the US and Europe, and has already raised 1 million USD in its first round of funding. For more information, visit http://www.zeepro.com.