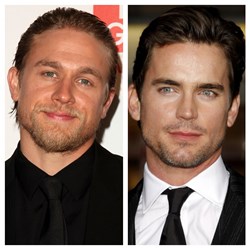 Every time I read '50 Shades', I close my eyes and see Matt Bomer
Los Angeles, CA (PRWEB) October 14, 2013
Matt Bomer (White Collar, Magic Mike) leads the way as the top pick to replace Charlie Hunnam as Christian Grey, the male lead in the wildly popular 'Fifty Shades of Grey' series. Hunnam's departure from the role was announced via statement released by Universal Pictures.
Ranker.com, a platform that hosts thousands of crowdsourced answers to opinion-based questions, has collected the aggregated opinion of nearly 13,000 voters on the topic of "Who Should Play Christian Grey?" With a list of 130 candidates, Matt Bomer has just over 1,400 more votes than second place Ian Somerhalder (The Vampire Diaries, Lost.)
The Top 5 Christian Grey Fantasy Casting:
1. Matt Bomer
2. Ian Somerhalder
3. Jessie Pavelka
4. Henry Cavill
5. Chris Hensworth
"Every time I read '50 Shades', I close my eyes and see Matt Bomer," says series fan Dayna Woodhams. Other noteworthy fantasy castings in the top 50 include Channing Tatum (7), Ryan Gosling (9), Christian Bale (16), Bradley Cooper (23), and Robert Patterson (38).
See the full list of Christian Grey Fantasy Casting, as well as 1000's of other opinion-based lists on Ranker.com.
About Ranker:
Ranker.com powers crowdsourced rankings/polls of everything—from the funniest movies ever to the best anti-aging moisturizer. Additionally, Ranker's technology powers polls on over 1600 websites via a distributed widget. Ranker was founded by Clark Benson, a lifelong entrepreneur with four prior successful startups. The last was eCrush, a top 10 online dating service (acquired by Hearst). Ranker is backed by Draper Associates, Rincon Venture Partners, Siemer Ventures, Chris Sacca/Lowercase Capital, Data Collective, BullPen Capital, TenOneTen Ventures, Tech Coast Angels and Pasadena Angels. With seed-level funding and no marketing spend, Ranker has built a complex, defensible platform where consumers go for the most credible answers (validated against traditional polling) to a broad selection of opinion-based questions, and 3rd party sites can use it to power their own. With people turning to the internet more than ever to ask questions, Ranker.com has become the destination for answers.