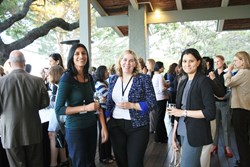 The space to safely question and challenge who we are, what we want, and how to get there.
Menlo Park, CA (PRWEB) October 14, 2013
On the evening of October 9, 2013 over 100 Bay Area business leaders converged at the Quadrus Conference Center in Menlo Park to celebrate the one-year anniversary of The CLUB, a not-for-profit organization dedicated to helping women accelerate their leadership journeys and increasing the number of women in leadership positions.
Since its founding in 2012 by five Bay Area women, The CLUB's membership has grown to nearly 200 members and generated over $100,000 in funding including corporate sponsorships and in-kind donations. Members are established and emerging women leaders who hail from top Silicon Valley and San Francisco companies and reflect a wide spectrum of experience, professions and industries. Members leverage the expertise and networks of guest experts and other members to build strong leadership skills that they take back to provide more effective leadership at their companies.
At the event, women's leadership expert Lise Edwards, named one of the Silicon Valley Business Journal's Top 100 Women of Influence for 2013 and co-founder of GenderAllies, led CLUB members and guests through an exchange of practical ideas on how to increase women's representation at all levels of leadership, and the CLUB's specific role in narrowing the gender gap among business leaders.
Rickey Stancliffe, CEO of Trombetta Family Wines, also shared the story of her rise to become one of the few women CEOs of a winery, and how she leveraged mentoring to reach the top of a male-dominated field.
The CLUB's philanthropic arm collected clothing donations for Career Closet, an organization that provides disadvantaged individuals with business attire and work experience.
The event was sponsored by PricewaterhouseCoopers LLP (PwC), with additional in-kind contributions from Trombetta Family Wines.
Reflecting on the first year of the CLUB, member Diana Olin from Adobe commented: "when I think of The CLUB, I think of the shared moments of introspection - the space to safely question and challenge who we are, what we want, and how to get there. I'm grateful that I bet on The Club and its vision, because in doing so, I bet on myself and fellow members."
The CLUB welcomes emerging or established leaders in any stage of their career to apply for membership at http://www.theclubsv.org/join-2/.
About The CLUB
The CLUB is a diverse community of professional women helping each other accelerate their leadership journeys by providing a unique environment that offers the opportunity for women leaders across industries and career stages to connect in a supportive and intellectually challenging environment.
CLUB members participate in formal training, informal gatherings, networking and mentorship. Members have opportunities to practice what they learn and receive live feedback in a supportive and intellectually challenging environment, taking their honed skills and deepened confidence back to the office to lead their teams, divisions and companies to new heights.
The CLUB is a 501(c)(3) not-for-profit organization and is tax exempt under the Internal Revenue Code.
For more information on The CLUB, please visit http://www.theclubsv.org