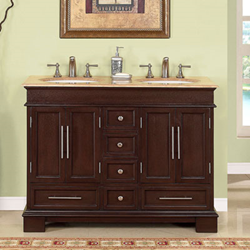 A few inches of width can make a big difference, both in terms of space and storage, when choosing a small double vanity, so pay special attention to what's being trimmed to save space.
(PRWEB) October 15, 2013
HomeThangs.com – the Online Home Improvement Store has made their goal to deliver the right product to the consumer. With that in mind, shopping and home design tips, as well as special product selections are being introduced.
Traditionally double bathroom vanities are only an option for larger bathrooms. At a minimum, most models clock in at a solid 60″ wide and they can easily span twice that width. But while big double bathroom vanities are great for fleshing out a large bathroom, not all bathrooms have room for such a hefty piece of furniture. For those with a smaller master bathroom that still want the convenience of a two-sink setup, HomeThangs.com has introduced a guide to the smallest possible double bathroom vanities.
HomeThangs.com now offers a variety of double vanities ranging from 59" all the way down to a petite 48". While 60" vanities are already a little on the lean side - essentially two 24″ vanities connected by a row of shared, foot-wide drawers - there are a number of ways to trim down the width without sacrificing too much in terms of storage.
Many petite double vanities simply shave an inch or two here or there, reducing the size of the cabinets or the drawers to reduce the overall size of the cabinets. But HomeThangs.com also offers a full line of compact double vanities with more dramatic and innovative storage solutions, like swapping cabinets for drawers, or sneaking spare drawers or shelves into unexpected spaces to maximize storage.
All this slimming and trimming can make 48″ double bathroom vanities, and even ones that are slightly wider, look a bit squished. It's true that the sinks can wind up very, very close together. To minimize the elbow bumping, HomeThangs also offers a variety of different sink options – like vessel sinks and trough style integrated sinks – which can make the vanities more comfortable to use and open up a little more in the way of storage space.
For those in truly tiny master bathrooms, HomeThangs also offers bundles of very petite wall mounted vanities designed to act as double bathroom vanities in two parts. These can knock up to another 8″ off the total width of the "vanity" and allow for a more flexible installation, too.
To see more petite double vanities, check out the full article here.
HomeThangs.com is not only a home improvement superstore, it also provides expert design tips and a comprehensive shopping guide, taking the ideas from professional interior designers, and offering tips to the consumers on how to pick the products to best suit their needs.