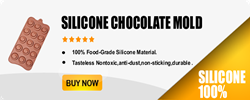 (PRWEB) October 14, 2013
Today, TOGOHK.com, the distinguished company that offers many kinds of silicone molds, has released its new silicone chocolate molds, each of which is light and handy. In addition, it decides to launch a special offer on these molds. All items in this range will be available at great discounts, up to 30% off, and the promotion is valid until Oct. 25, 2013.
This new collection of silicone chocolate molds is especially made for children. They are all made of 100% food grade silicone, coming with modern manufacturing processes. These silicone chocolate molds are light and handy; it is very convenient to use them. They can be washed with hot and soapy water in the dishwasher.
TOGOHK.com is a renowned manufacturer and retailer of silicone molds, Viton O-rings, and other silicone products. The company pays much attention to the quality of every product. Custom made models are also offered at its online shop to meet different needs of clients from around the world. Moreover, the company insists on introducing the most advanced technologies and mechanical equipment in the world. The website is updated every day to provide the information of its latest fantastic designs.
"As a pioneer in the industry, our company provides various silicone chocolate molds in the global market." The CEO of the company says, "We are excited to release our light and handy silicone chocolate molds. We want to serve more people from all over the world. Besides silicone chocolate molds, we offer food-grade silicone cake molds, Viton o-rings, custom silicone chocolate candy molds and many other related products. Welcome to visit our website."
About TOGOHK.com
Founded in 2003, TOGOHK is the leading company of silicone products; the company has developed into a modern enterprise that offers its customers worldwide a one-stop silicone product solution from conception to delivery. With high technology engineering and advanced CAD and CAM, the company has been serving more than 3000 customers from over 70 countries.
For more information about the business, please visit their website at: http://www.togohk.com/?gallery=silicone-chocolate-mould