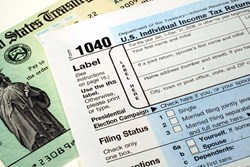 Fresh Start provides relief for taxpayers, like the unemployed, by providing extensions to fully pay their taxes
Santa Monica, CA (PRWEB) October 14, 2013
The Internal Revenue Service wants to make sure those taxpayers who requested a tax filing extension make sure they file their 2012 tax returns by October 15, 2013. There will be no exceptions, even though the nation faced a government shutdown on October 1st which rendered the IRS somewhat inoperable. That makes no difference to the federal government because they still expect taxpayers to pay what they are liable for.
Tax attorneys at Strategic Tax Lawyers, LLP have advised many taxpayers through successful tax audits, and they recommend to "not only file your tax return on time, you should also carefully review and double check your tax return for careless mistakes and overlooked tax benefits to avoid any audit complications."
The IRS is not open to assist taxpayers by phone or in person with any tax filing questions; however, you can always try your luck with the automated IRS phone system that could possibly resolve potential issues. This may cause a minor crisis or leave many of the 12 million people who requested a 6-month tax filing extension helpless.
Taxpayers can either mail their 2012 tax returns or they can opt to file electronically using the IRS e-file system. The option to electronically file is more efficient, faster and more secure. This is especially ideal if the deadline is approaching rapidly, as it offers the option to quickly meet the deadline. To expedite your tax return, make sure you opt for direct deposit, but don't expect to receive your tax return until the IRS is no longer shutdown, even though the government will make sure to cash taxpayers' money as soon as they receive it. A paper tax return will be delayed until the IRS' hours of operations are back to normal.
The government shutdown has actually proven to be good news for tax delinquents since the IRS is limited in their enforcement to seize assets by not issuing any liens or levies at this time. The luckiest include those who were facing a tax audit by the IRS. Now that tax collectors have been furloughed, they are not capable of collecting delinquent payments until further notice.
The tax experts at Strategic Tax Lawyers, LLP agree that there are ways for taxpayers who can't afford to pay their taxes to make payments, including the IRS initiative called the Fresh Start. Fresh Start provides relief for taxpayers, like the unemployed, by providing extensions to fully pay their taxes. As part of the initiative, the IRS also offers installment agreements for taxpayers who can't make their payment in full by the tax deadline. This initiative allows taxpayers to pay off their back taxes and pay off their current tax bill. Another IRS Fresh Start benefit for taxpayers is the increase in the notice of federal tax lien filing amounts to $10,000, previously it was $5,000.
To qualify for the Fresh Start installment agreements or penalty relief, you need to apply to the IRS and set up an installment agreement. This however, will have to wait until the IRS resumes its business as scheduled.
Contact Strategic tax lawyers for tax consultation:
http://www.mytaxattorney.com