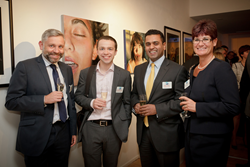 "Another very successful evening – Well done you! Thanks to you and all your organising team as well as our excellent hosts." Joss Dalrymple, National Head of Private Tax Services, Smith & Williamson
London (PRWEB UK) 29 October 2013
On 30th September 2013, Wendy Marston Events organised a successful champagne reception for Private Client Practitioner's Top 35 Under 35, with attendance from senior executives from the private client industry.
The Top 35 Under 35 initiative is designed to identify, recognise, promote and introduce the rising stars of the private client practitioner community. It also provides an opportunity for the top 35 men and 35 women to meet each other and some of the UK's top practitioners at this reception and throughout the next 12 months at smaller events. The champagne reception, held at Gallery Different in London, included guests from the leading UK and UK offshore private client firms, such as Grant Thornton, PwC and KPMG. The reception was also attended by members of the PAM Awards Judging Panel and 50 Most Influential Private Client Practitioners winners.
Wendy Marston Events is a specialist event planner, focusing on the organisation of awards programmes and their associated receptions, dinners and meetings, from small roundtable breakfast meetings to gala award dinners. Wendy Marston, founder and director, has been managing the PAM Awards in association with PAM Insight, the company behind Private Client Practitioner, for over 10 years, and in 2012 took over the organisation of their remaining suite of awards and events.
"It's great to work on initiative that focuses on recognising and promoting young talent within the private client industry and we have been delighted with the great feedback this initiative has received. We are so pleased to be able to contribute to the success of these awards through the organisation of the celebratory reception," says Wendy Marston, founder and director.
Gallery Different provided an interesting backdrop, with the exhibition "Face". This exhibition featured Portraiture in a range of media and genres from artists including Johan Andersson, Chris Myers, Martin Baldwyn and Francoise Nielly. Photographs were taken by Simon Hargrave. Catering was provided by Mari Taylor and included tiger prawns butterflied with lime & chilli, Rosemary shortbreads with beetroot confit and wafers of Pecorino, Spicy lamb koftas with yoghurt and mint dip and Chocolate cups with lemon filling and raspberries. The champagne was Louis Roederer Brut NV. Plaques produced by Awarded2U were later handed out to the winners. Sponsor Quilter Cheviot welcomed guests with a brief speech, and an introduction by Ed Hicks, managing director of PAM Insight, the company behind the initiative.
Companies interested in improving the return on their events and awards programmes can contact Wendy Marston at Wendy Marston Events at http://www.wendymarstonevents.com.
ENDS
About Wendy Marston Events:
Wendy has been running events for business since 2001 and weddings and private events since 2008. Wendy Marston Events specialises in running award programmes, receptions, dinners and meetings, from small roundtable breakfast meetings to gala award dinners.