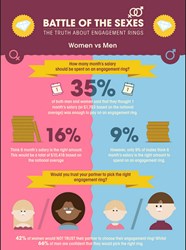 London, England (PRWEB UK) 16 October 2013
5th October 2013 - A revealing infographic by The Diamond Store shows just how much men and women differ in opinion at different stages of the engagement process from the initial proposal to the actual buying of the ring.
Gary Ingram, Founder & Managing Director of The Diamond Store explains, 'We thought it would be interesting to find out just how differently men and women view the engagement process including the proposal stage, the type of rings favoured by the different genders and the expected cost of the ring. With our infographic we hope to help people make the right choices by providing a valuable insight into things which perhaps aren't traditionally discussed between a couple.'
According to the infographic, 35% of both men and women thought a month's wages (based on the UK national average) was an adequate amount on average to spend on an engagement ring, however 16% of females and 9% of males thought 6 months wages was a more realistic amount. This is just one statistic taken from the survey; more results can be seen by visiting news.thediamondstore.co.uk.
Gary goes onto say, 'A lot of people from both sexes think they know what their prospective partner wants in all aspects of the engagement process and perhaps make assumptions and ultimately decisions based on these assumptions. Our infographic can perhaps help people make more balanced decisions and provide some insight into the psyche of the opposite sex when it comes to getting engaged.'
Gary concludes by saying, 'We would advise anyone who is thinking of getting engaged to take a look at our infographic. We know people are individuals and there is no such thing as a 'one size fits all' solution when it comes to matters of the heart but a little insight into common views and perceptions surrounding the engagement process may be beneficial to some people.'
The Diamond Store (est. 2006) is an award winning Jewellery retailer with in excess of 40,000 satisfied customers.
More Info:
Infographic: http://news.thediamondstore.co.uk/2013/10/03/battle-of-the-sexes-the-truth-about-engagement-rings/