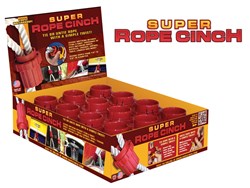 Users do not need to tie or untie a knot when fastening anything with rope.
Nashville, TN (PRWEB) October 14, 2013
Under Larry McBride's management will be all orders and processes related to distribution to large retail stores. With the Super Rope Cinch being such a hot product in the market right now, it has attracted such larger retail stores as Wal-Mart, Home Depot, Do it Best, among many other stores in USA, Canada and now Europe that sell this incredible rope fastening device.
Made in the USA, the Super Rope Cinch is Just Right Products' own creation. This amazing rope fastener enables just about anyone to secure a rope. This is mainly drawn by the fact that with the Super Rope Cinch, you do not have to tie a knot to fasten anything and neither do you need to untie one to get it loose. This revolutionary rope fastener comes with a twist knob that enables you to fasten it on anything with a simple twist of the knob.
The strength of the Super Rope Cinch has been tested and found to hold up to 750 lbs. This rope fastener enables the user to have a firm grip and secure hold on even the heaviest of products within one second, even if they have never tied a knot in all their lives.
About Just Right Products
Just Right Products' are creators and patent holders of the amazing Super Rope Cinch. This revolutionary rope fastener ensures that users do not need to tie or untie a knot when fastening anything with rope. With a simple twist, this rope secures up to 750 lbs. of weight. Contact us through Tim Bourke - 248-843-7424 or email at tim(at)jrpsllc(dot)com. You can also get more information through http://www.JustRightProductsLLC.com, http://www.SuperRopeCinch.com.