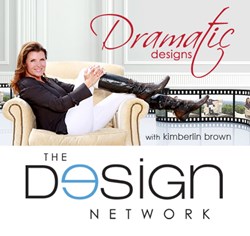 She's very recognized for her acting career, but many of her fans don't realize that Kimberlin has such a gift for interior design and has been a respected industry professional for more than twenty years.
Jamestown, NC (PRWEB) October 15, 2013
The Design Network welcomes well-known actress and interior designer Kimberlin Brown to its growing cast of home design experts. Her new video series 'Dramatic Designs' launches on TDN October 14, 2013.
Kimberlin Brown says she has always been attracted to architecture and its elements. Becoming an architect was her dream even when Hollywood came knocking. While portraying the character of Sheila Carter on the hit daytime dramas 'The Young and the Restless' and 'The Bold and the Beautiful,' Kimberlin changed paths and moved into interior design. She was amazed to watch the artistry of set design and was inspired to attend The Interior Design Institute in California. Kimberlin has since run a very successful design company, designing her first home more than twenty years ago. Her homes have been published and filmed with clients across the US and abroad.
In her multi-episode series 'Dramatic Designs,' Kimberlin invites her viewers to follow the exciting process of turning a beautiful beachfront property in Cabo San Lucas, Mexico into an amazing, custom vacation home for a long-time client with a family of five. From the sand up, Kimberlin shares everything from space planning to the final installation, as well as the unpredictable, which includes an impending hurricane that threatens to throw the project off track. Kimberlin also provides simple tips of the trade during each episode that will empower her audience to begin creating their own Dramatic Designs.
"My design philosophy? Listen to your client," says Kimberlin. "Give them what they want! I don't just design homes, I design a lifestyle."
TDN Founder Jason Harris notes, "We were thrilled that Kimberlin was interested in becoming a part of our TDN community of home design experts. She's very recognized for her acting career, but many of her fans don't realize that Kimberlin has such a gift for interior design and has been a respected industry professional for more than twenty years. Her Cabo San Lucas vacation home is just one of many amazing projects that we hope to showcase on The Design Network."
About The Design Network:
Launched in January 2013 by home furnishings industry veterans Jason and Jeff Harris, The Design Network is a broadband, all-screens network that aligns the best designers, architects, furniture purveyors, video producers and home enthusiasts to offer inspirational, instructional and entertaining videos about home design and fashion. By serving on-demand content in a new, relevant and fresh way, and reaching home enthusiasts through a multitude of screens, anywhere at any time, the Design Network is an entertaining resource for design inspiration, expert advice and product information, as well as a growing, vibrant community built on a shared passion for all things "home."