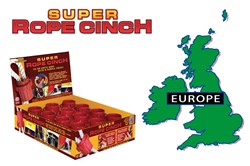 Easy enough to use that even children can securely fasten rope
Nashville, Tenn (PRWEB) October 15, 2013
The Super Rope has finally hit the European market. Numerous retail stores in Europe are now stocking the USA made revolutionary rope.
The Super Rope Cinch has gained so much popularity due to its ease of use. With a simple twist, anyone can now secure even the heaviest of objects. Unlike other ordinary rope fastening devices and tools where you have to master the best and most secure knot to be able to use it, the Super Rope Cinch only requires you to know how to twist the device to lock and unlock rope. It comes with a knob that secures the rope tight around the object for as long as you need it. Untying the rope is just as easy. Once you reach your destination or no longer need to secure the item, simply press the release button and the rope releases completely. No more struggling to get a loose knot tight, and no more struggling to get a stuck knot loose.
This rope device has been tested that it can hold up to 750 lbs of weight, but has been labeled "not for safety" by the manufacturer, making it best-suited for leisurely activity such as camping, boating, hiking, strapping, securing luggage, wood, and other household objects. It is therefore easy enough to use that even children can securely fasten rope without evert tying or untying a knot, making the Super Rope Cinch perfect for harnessing items onto your car and even securing your boat at dock.
About Just Right Products
Just Right Products LLC are creators and patent holders of the amazing Super Rope Cinch. This revolutionary rope fastener ensures that users do not need to tie or untie a knot when fastening items with rope of 1/8" to 58" in diameter. Ropes can be used in multiples, and in any combination of types and sizes, including nylon straps. With a simple twist, this rope securing device will hold up to 750 lbs of weight, but it not to be used for safety and rescue. Contact the inventor Tim Bourke at 248-843-7424 or email him at tim(at)jrpsllc(dot)com. You can also get more information through the Just Right Products' websites at http://www.JustRightProductsLLC.com, http://www.SuperRopeCinch.com.