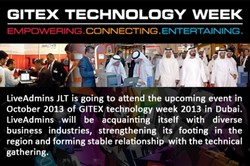 Enhancing the Level of Customer Service and Sales Through Live Chat - LiveAdmins.ae, 'The Live Chat People.'
Dubai, UAE (PRWEB) October 15, 2013
Showcasing some of the greatest innovative products in the global technology sector from 20th to 24th of October, GITEX Technology Week will be providing many regional and international ICT industry exhibitors with a platform and thus a significant business opportunity to grandstand their cutting edge technology brands at the Dubai World Trade Center. More than 139,000 ICT Professionals from 144 countries, 3,576 ICT companies from 54 countries, over 80% of the top ICT brands worldwide and more than 25,000 C-level executives from key industry verticals are expected to attend the event, where the 2013 edition of this event is also expected to be the most comprehensive one of its own history. Moreover, making this event even more effective and all-encompassing, the trend-specific sectorisation of GITEX would enable new companies to participate and engage the visitors even better.
This year, LiveAdmins JLT would be showcasing its propriety, the WebGreeter Live Chat Software®. This innovative chat tool is best to serve today's highly empowered customers, who widely prefer online browsing and take no prisoners when it comes to getting quick and suitable solutions. WebGreeter Live Chat Software® allows companies to focus on their otherwise unattended online customers. Not only this application is scalable but also steady and efficient.
The International technological trading hub like GITEX would provide businesses with an opportunity to learn more and benefit from the revolutionary WebGretter Live Chat Software®. LiveAdmins JLT will be focusing on the power of online customer service solutions and how companies can deal with their debility to come up to the expectations of empowered consumers while ramping up their ROI at the same time. In the context of endorsing itself as the region's best online service provider, LiveAdmins JLT is all set to demonstrate its value proposition as the best online service provider to this large-scale meet-up.
About LiveAdmins JLT
LiveAdmins is a 10-year provider of Live Chat online sales & customer service. LiveAdmins delivers solutions for a variety of businesses designed to increase their leads and sales and enhance their customer service.
LiveAdmins' WebGreeter® Live Chat service is offered in English, French, Spanish, German, and Arabic. LiveAdmins has sales offices and WebCenters (chat centers) all around the world.