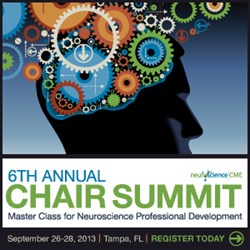 Bethesda, MD (PRWEB) October 14, 2013
CME Outfitters (CMEO) and The University of Miami Leonard M. Miller School of Medicine hosted over 240 clinicians September 26-28 in Tampa for the 6th Annual Chair Summit: Master Class for Neuroscience Professional Development. Conference participants were impressed with the new technological aspects of the meeting this year, including interactive audience response technology provided by Educational Measures available on iPad, computer, or smartphone devices, a live Twitter conversation (#Chair2013), completely electronic evaluations, and a live web stream interface that allowed virtual attendees to take notes and participate in instant Q&A and Twitter.
"As a returning Chair Summit attendee, I was very impressed with the interactive iPad technology and use of social media this year," said Tony Graham, MD, "Chair Summit is always one of the best medical meetings I attend, and this year CME Outfitters took it to a whole new level. As a physician, I truly appreciate how CMEO constantly delivers best in class continuing medical education, and uses cutting edge technology to improve the quality of the educational experience."
The technology theme of the meeting was B.Y.O.D.—Bring Your Own Device. Educational Measures interactive technology that is compatible with an array of devices (iPad, computer, or smartphone) played a crucial role during the meeting by allowing clinicians who were in the live plenary sessions to answer audience response questions during each session and submit their questions to the presenters via iPad as the presentations were happening. Participants viewed the synched lecture slides on their iPads, computer, or smartphone and were able to follow the presentation. Additionally, participants had the opportunity to take notes (using their chosen technology) on specific slides creating a self-directed learning environment. Following the conference, the complete slide decks with archived notes were e-mailed to each participant as reminder messages of the content that they found most valuable and impactful. The purpose of the iPad technology is to enhance the learner's experience, and help the education stick. With their chosen device in hand, learners become a part of the lesson, instantly, and can be engaged in the lessons from start to finish.
Electronic evaluation opportunities were also an important way to collect learner feedback for each session, as questions were specific to content presented. Questions focused on concepts presented, audience response questions as a measure of change in knowledge, as well as case vignettes to measure changes in competence. Overall evaluation data is also being collected post-activity through the online credit request process.
A returning and enhanced technological element this year was the online live stream of select conference plenaries that was available for anyone who was unable to attend in person. This year, CMEO streamed live sessions all 3 days (as compared to one day last year), which brought 299 visits to the live stream and 147 unique virtual learners, a majority of whom returned each day. The live stream offered learners the opportunity to submit questions via the web that were sent directly to faculty presenters in real time, download presentation slides, and participate in the #Chair2013 twitter conversation, all from one web console.
Twitter was another brand new element to Chair Summit this year. While it remains apparent that physician adoption of Twitter is on a slow but steady incline, Chair Summit attendees were all about participating in the #Chair2013 twitter conversation. Many clinicians tweeted for the first time at Chair Summit, providing feedback about plenaries, small group discussions, and overall conference experience. The CME Outfitters staff displayed a live #Chair2013 twitter stream on a large monitor in the lobby, and provided a "Twitter 101" guide in conference booklets. Wi-Fi was available during the conference so that participants could tweet using their laptop, tablet or smartphone. Mark Gold, MD graciously donated 2 copies of his new book "Food and Addiction" to the top two tweeters from the meeting. To see comments and interaction from the meeting, please visit the #Chair2013 tweet stream on Twitter.
CME Outfitters now looks toward reviewing and analyzing the responses and data from these multiple electronic resources, Twitter, evaluations, audience response system data, participant notes on slides, and questions posed to faculty. The robust educational outcomes that will be collected and reported from this comprehensive and important meeting will be shared in future CME Outfitters clinical connections, publications, and poster sessions.
About CME Outfitters, LLC
CME Outfitters (CMEO) is a leading accredited provider in continuing medical education. CMEO develops and distributes live, recorded and web-based, outcomes- and evidence-based educational activities to thousands of clinicians each year and offers expert accreditation and outcome services for non-accredited organizations. CME Outfitters focuses on delivering education to specialty audiences, with strong expertise in neuroscience, inflammatory, infectious, and autoimmune diseases, and cardiovascular disease. For a complete list of certified activities and more information, visit http://www.cmeoutfitters.com or call 877.CME.PROS (877.263.7767).
About Educational Measures
Founded over a decade ago as a technology company focused on data collection and management in the healthcare industry, Educational Measures was created to meet a need in the marketplace; the need to effectively collect and analyze data to its fullest extent to improve physician performance and ultimately patient care. Using their background in technology and education, the founders built a company based on cutting edge technology, innovative thinking and superior customer service. Today, the company has expanded its services across all industries and added a suite of innovative, customizable products and services designed to help companies properly utilize content and data. With offices in Colorado, Pennsylvania, New York, and the United Kingdom, Educational Measures' staff works to ensure their clients deliver content effectively and collect the data they need, because more facts, more figures and better stratification lead to more powerful results.
"CME Outfitters … Improving Clinical Behavior … One Change at a Time"