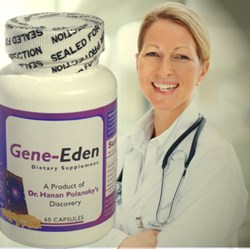 Licorice has always been a main ingredient of Gene-Eden-VIR. We believe that every person infected with hepatitis C should consider using this natural hepatitis remedy to help the immune system target the latent HCV. – Mike Evans, polyDNA
Rochester, NY (PRWEB) October 15, 2013
Licorice root comes from the licorice plant. Its active, antiviral ingredient is called "glycyrrhizin." The natural, antiviral supplement, Gene-Eden-VIR, contains licorice. Since Gene-Eden-VIR is polyDNA's premier antiviral product, the company was pleased to learn that the United States government, on its Veteran Affairs website, is recognizing research that provides evidence for the antiviral nature of licorice (2).
An example of this research can be found in a study published in the medical journal Phytotherapy Research on September 20th, 2007, which said that "Historical sources for the use of Glycyrrhiza species (the active ingredient in Licorice) include ancient manuscripts from China, India and Greece. They all mention its use for symptoms of viral respiratory tract infections and hepatitis (3)."
Now, the U.S. Department of Veteran Affairs website says that "long-term use of glycyrrhizin might prevent liver cancer in patients with hepatitis C (2)."
How does licorice help prevent liver damage caused by HCV?
The active ingredients in licorice reduce the damage the hepatitis virus causes to cells in the liver. As researchers from the University of Padua wrote, "Randomized controlled trials confirmed that the Glycyrrhiza glabra derived compound glycyrrhizin and its derivatives reduced hepatocellular damage in chronic hepatitis B and C. In hepatitis C virus-induced cirrhosis the risk of hepatocellular carcinoma was reduced (3)."
"Licorice has always been a main ingredient of Gene-Eden-VIR. We believe that every person infected with hepatitis C should consider using this natural hepatitis remedy to help the immune system target the latent HCV." – Mike Evans, polyDNA
Gene-Eden-VIR is a natural HCV remedy proven in a clinical study to reduce viral symptoms (4).
A recent post marketing clinical study published in the peer reviewed, medical journal Pharmacology & Pharmacy, in a special edition on Advances in Antiviral Drugs on August 12, 2013 showed that Gene-Eden-VIR is safe and effective (4).
Each ingredient of Gene-Eden-VIR was chosen through a scientific approach. Scientists scanned thousands of scientific and medical papers published in various medical and scientific journals around the world to identify the safest, most effective natural ingredients that target the latent form of herpes (4).
To learn more about Gene-Eden-VIR and Hepatitis C, visit http://gene-eden-kill-virus.com/HCV.php. All orders of Gene-Eden-VIR are completely confidential, and no information is shared or sold to any third party. Privacy is assured.
Reference:
(1) http://www.archerfriendly.com/2013/04/licorice-root-glycyrrhiza-glabra
(2) http://www.hepatitis.va.gov/patient/alternative-therapies/licorice-root.asp
(3) http://www.ncbi.nlm.nih.gov/pubmed/17886224
(4) http://www.scirp.org/journal/PaperInformation.aspx?PaperID=36101
polyDNA is a biotechnology company that develops dietary supplements using the unique scientific method developed by Dr. Hanan Polansky, which is based on Computer Intuition.
In addition to his unique scientific method, Dr. Polansky published the highly acclaimed scientific discovery, called Microcompetition with Foreign DNA. The discovery explains how foreign DNA fragments, and specifically, DNA of latent viruses, cause most major diseases.
polyDNA developed Gene-Eden-VIR, an antiviral natural remedy that helps the immune system kill latent viruses.