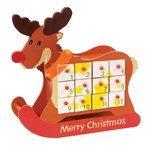 Among the exclusive products are a large Reindeer Wooden Advent Calendar, value chocolate advent calendars and last year's bestseller 'My Little Sweet Shop'.
(PRWEB UK) 15 October 2013
With the Christmas season firmly established as the busiest period of the year for retail, shoppers are becoming increasingly keen to get a head start on their Christmas shopping. According to the Daily Mail, 55% of mothers are eager to take advantage of pre-season sales and stock up early for Christmas.
Retailers, in turn, have responded to these trends by offering pre-season incentives to keen Christmas shoppers. Jonathan Summerley, Purchasing Director at Hancocks, commented on the early-bird Christmas shopping trend:
"Nowadays, shoppers like to feel organised, managing their budget more carefully and avoiding the Christmas rush the Christmas rush. In response to these trends, retailers will want to stock up early, put up their Christmas displays, and offer their customers real incentive to start their Christmas shopping in October."
"Likewise, wholesalers want to be ahead of the game, by offering retailers incentives to bulk-buy early in order to achieve some great sales and strong margins."
Since 1962, wholesale confectionery specialists Hancocks have offered retailers an ever-expanding range of chocolate and sweets, as well as fantastic value and great profit returns.
Now, with the season to be jolly looming large on the horizon, the Leicestershire-based wholesaler has released a brand new spectacular Christmas catalogue for the 2013 Christmas season.
With margins of up to 52%, 2013's catalogue has lines to retail from 5p to £19.99, and includes an ample range of stocking fillers, pound lines and novelty products.
Summerley says of the brochure, "Our Christmas catalogue provides superb opportunities for businesses and retailers of all sizes. By having a good mix of new products side by side with old favourites, we provide retailers with a wide range of gifts to add real interest to their festive confectionery range."
The catalogue's 78 new products can be marketed at children and adults alike: Giant Gold Chocolate Coins (£1 RRP) and giant jars of mallow and flying saucers (£4.99 RRP) are eye-catching novelty items for the kids, while retailers will also want to showcase boxes of delicious chocolate crèmes, exotic Turkish Delight and quality liqueurs for adults. Not necessarily Christmas-themed, retailers will find these attractive gift items are worthwhile stocking all the year round.
The catalogue showcases 106 products exclusive to Hancocks. Among the exclusive products are a large Reindeer Wooden Advent Calendar (£3.99 RRP), value chocolate advent calendars (£1 RRP) and last year's bestseller 'My Little Sweet Shop', (£9.99 RRP) containing eight jars of classic sweets, such as jelly babies, white mice and strawberry bon bons.
"The exclusive items in our catalogue, such as 'My Little Sweet Shop', are designed to have a real novelty, keepsake factor. These will allow retailers to offer a more unique gift selection this Christmas."
Summerley adds that Hancocks will be showcasing the Christmas range in addition to a raft of special offers at its depots nationwide during the 2 Day Extra Discount Event on the 10 and 11th of November.
Established since 1962, Hancocks is the leading UK wholesaler of sweets and chocolate for independent businesses. Visit http://www.hancocks.co.uk today to see its comprehensive Christmas range, or, alternatively, visit one of 20 nationwide Hancocks cash and carry depots.